Before Ivy was even born, her mother Caitlin Cusack was told that her daughter will not be like everyone else. Doctors had warned her that her daughter would have a cleft lip. In 2019, when Ivy was born, she was born with a cleft in her upper palate, just as the doctors had predicted.
After going through several plastic surgeries in the first year of her life, by the age of 2, she was healthy, fully recovered and beautiful. During the first two years of her life, Caitlin and her husband noticed that their baby girl just loved cats. Although the adult cat that the family had was friendly, it did not want to be the little girl's play partner. Hence, the parents thought of getting an energetic kitten for Ivy. Deciding they should adopt from an animal shelter, Caitlin soon receives a photo of Sargent Pepper.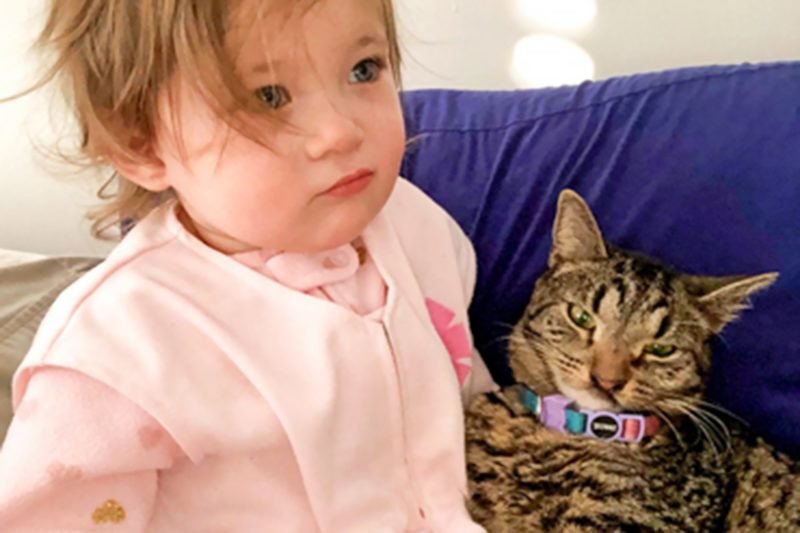 Meeting Sargent Pepper was a sign of fate. The little kitten had same crevice in the upper palate, and it hadn't found its forever home due to how it looked. As Caitlin's husband loved the Beatles, it was a happy coincidence that the kitten was named after the hero of their album. With the help of volunteers, surgery was done on the cat to correct the birth defect, just as it was done on little Ivy.
After a successful operation, the kitten was healthy and happy. As the perfect companion for Ivy, they did everything together: they played, and fall asleep together on the sofa after all their games and fussing about.
This story was told by volunteers at a competition, organized by a well-known sports company, where the friendship between a kitten and a girl, who had travelled a similar path, where this story went on to win, which was one of hundreds.
Receiving a grant of $25,000, it was enough to cover Sargent Pepper's operation fully. It also made several abandoned animals and families happy.