One small mouse's existence in the world may not seem like much to some, but it means everything to her. And this specific rodent was fortunate to meet someone who agrees just when she needed it the most.
Maryana Kravets noticed another friend's cat out on the hunt while strolling with her buddy Antony near their house in Ukraine the other day.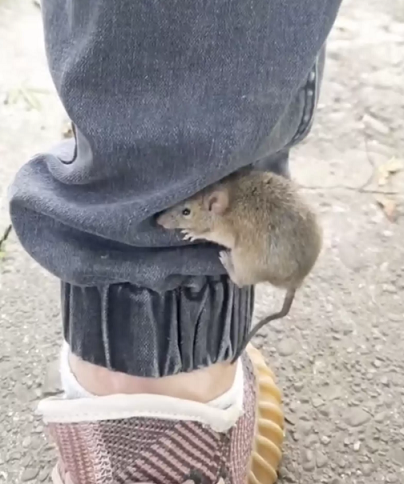 The goal of the cat's joyful pursuit became evident as the couple got closer – it was a mouse, terrified of being pursued by her feline pursuer. Kravets and Antony made the decision to interfere.
Kravets stated in an interview, "We went to save the mouse from the cat. To defend herself, she leapt on [Antony's] leg."
When he noticed a mouse on his leg, Antony was forced to make a decision: swat her away or become her hero. Antony opted for the latter:
Antony then proceeded into a neighboring field, where the mouse might fall and find refuge. He'd saved her life, but Antony doesn't blame the cat for acting on her feline instincts.
"I wanted this story to have a happy ending for everyone," Antony ultimately said. "I also brought snacks for the cat that day."