All over the world, there are many dogs and cats are living in animal shelters.
Some of them are lucky enough to find a lovely family, while others are waiting for their day to come.
Shelter workers usually try to give a comfortable life to their temporary pets. One of the English dog shelters turned to kind-hearted people with a request for help.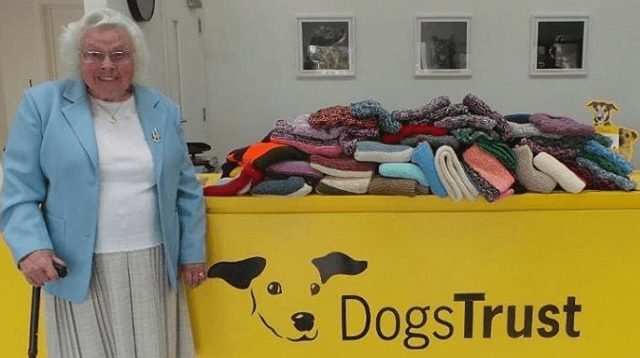 One day, on their Facebook page the following announcement was displayed. "We encourage all kind-hearted people who know how to handle yarn and knitting needles to donate sweaters for dogs who are cold and especially lonely during the Christmas holidays.''
The announcement attracted attention with 89 years old grandmother Maise Green among those who responded.
She enthusiastically got down to business and soon the shelter dogs could already enjoy the result of her work. She said that she loves knitting and dogs. So, the combination is perfectly matched her passion. She started helping the orphanage regularly. Over 3 years the dogs received more than 450 blankets. And also there were a huge number of sweaters.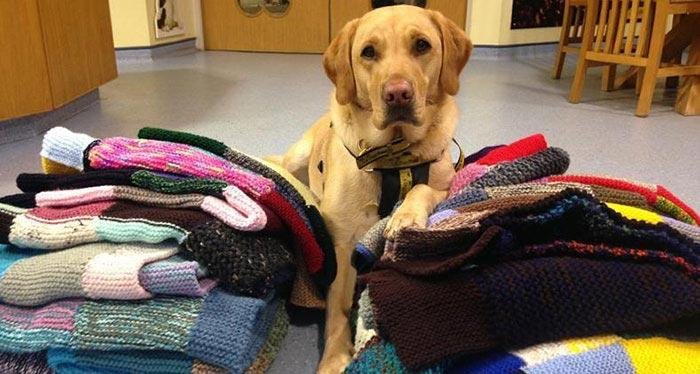 She said that she could knit a blanket within 3days and a dog sweater in one day. It has made her a busy one. And she loves to knit while watching TV.
The shelter staff is very grateful to her for her help. Thanks to her the dogs are no longer afraid of the onset of cold weather.
They can stay comfortable and cozy.