Two years back there was   a story about a guy who tripped on a stray cat that sneaked in to his apartment and then gave birth to four adorable little kittens
After deciding to keep the cat family of 5, he decided to give regular updates about them and how things are. Since they celebrated their 2-year birthday together, several months ago, we were fortunate to encounter some happy-ever-after moments of this wonderful family. 
You might remember the guy who tripped on a snuck in cat and then encountered her four newly born kittens.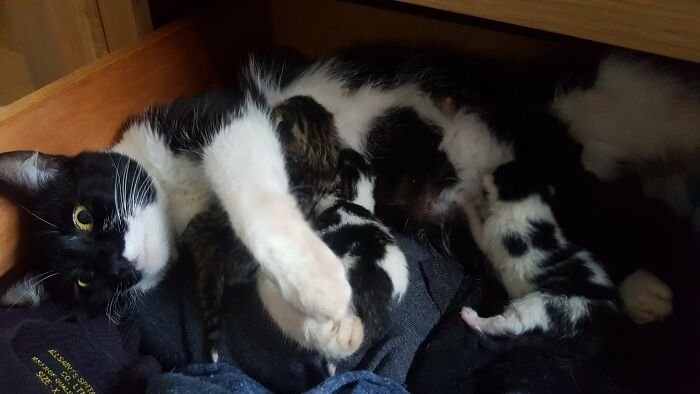 Image credits: Paris Zarcilla
For those who don't know, this is an event took place two years ago. When the  London-based film director and writer Paris Zarcilla walked into his room to find a cat which was not his, and has just given birth to four kittens, he had plans to go for grocery shopping. Well, that did not go as planned.  
Instead, he had to cancel all his plans and stared tending to his new cat family becoming a cat-dad. After contacting several parties, including cat protection, vets and charities, he tried to introduce this cat family to twitter and this led to a beginning of a new adventure. It was never his intention to become a cat owner but then this happened. 
This is the cat family with their daddy, 2 years later, celebrating their anniversary as a proud family.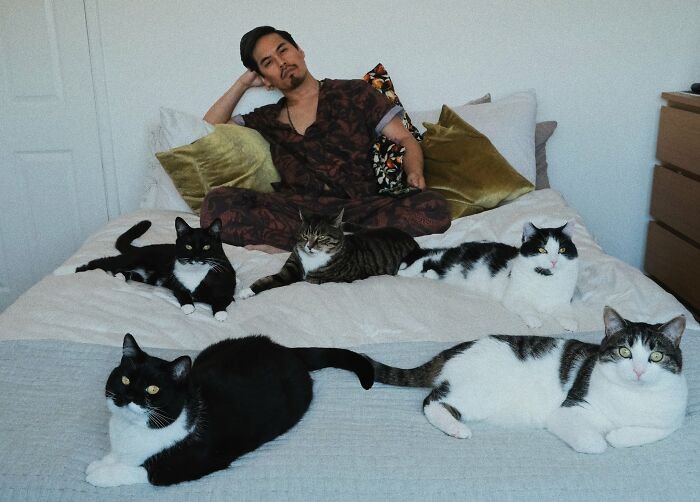 Image credits: Paris Zarcilla
For those unaware, Paris Zarcilla encountered a stray cat mama in 2018, with her four, newly born kittens.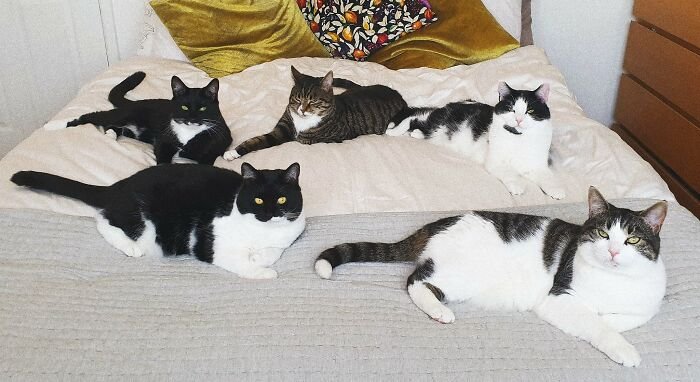 Consistently, he has been posting different pictures and updates on his Twitter, enumerating existence with the pawmily of 5. Furthermore, last May, he tweeted about their two-year birthday, which filled in as to some degree, a grand update on how cheerful and joyful the ever-after is. Also, that is not all!
"Happy Birthday my fam. I love you more than you'll ever know. You've brought so much light to my life. You have me forever. X #Caturday #TwoYears," read the tweet.
Almost all of his twitter account has been occupied by these cats, hanging around on the window sill, sleeping, sniffing about (food and other things), being curious, box fun while being cute, funny and doing all sorts of cat stuff. It is bound to happen when you have 5 cats hanging around.
Then he ended up becoming a daddy to the family and giving them a forever home and regular updates for us.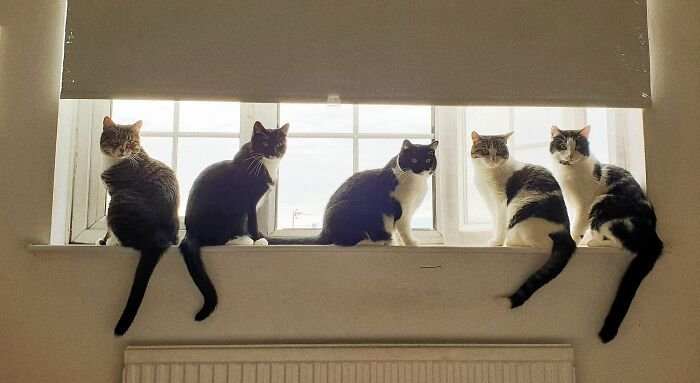 The recently posted biggest update was their two -year birthday last May and also their Christmas together which they celebrated a month ago.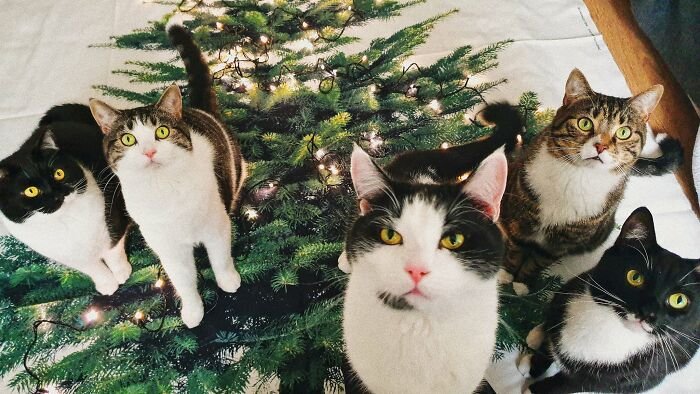 Paris, now, was at that point of being overwhelmed with feeling and the energy of turning into a cat dad. however things got better: individuals began giving food, books, equipment and different things to help him out with dealing with the cats.
"[I] find myself in a stage of awe at the generosity and kindness of strangers," he said in one of this tweets.
There was also a GoFundMe campaign to help out the cause, however it was stopped on account of individuals being kind- hearted and generous with their gifts. They gave all that cats could need, and much more. Most amazing fact is that it seems like the cat family, being cats of course, appreciated the shipping boxes the most.
It seems the pawmily has grown to be much bigger since Paris' first adventure with them.
Image credits: Paris Zarcilla