Fishtopher is an innocent cat. He is not like regular cat because of his look on face. This 5 years old rescue cat always shows what is in his mind, on his face.
Fishtopher has found as a stray in New Jersey. At first, he spent some times in Homeward Bound Pet Adoption Center. His sullen expression directly showed others that how he felt abut being in there.
He loved his caregivers in the shelter but what he wanted was, a true loving family like others. On his own. As soon as het in the shelter Fishtoper showed signs of loveliness. He used to eat only if there is a shelter staff member would stop near his crate with him. He always wanted one-on-one attention.
Everyone in Homeward Bound fell in love with him. But they wanted him to have a lovely home.
So, they created a Petfinder profile for him. They described his needs in there. "Friendly, affectionate, gentle, quiet, couch potato" that's how they mentioned. They also mentioned how much he loves to be cuddled, and to be feel like he is secured.
The profile ended with what kind of family he would be happy to be with. They thought it will be helpful for him to choose the right family.
They described he will be happy to be in a quieter family.
Shortly after his profile went live, Twitter user Molly Clarke shared a screenshot Fishtopher's description. She didn't forget to add a lovely picture of his face.
Her tweet went viral and soon Homeward Bound was flooded with adoption requests for Fishtopher.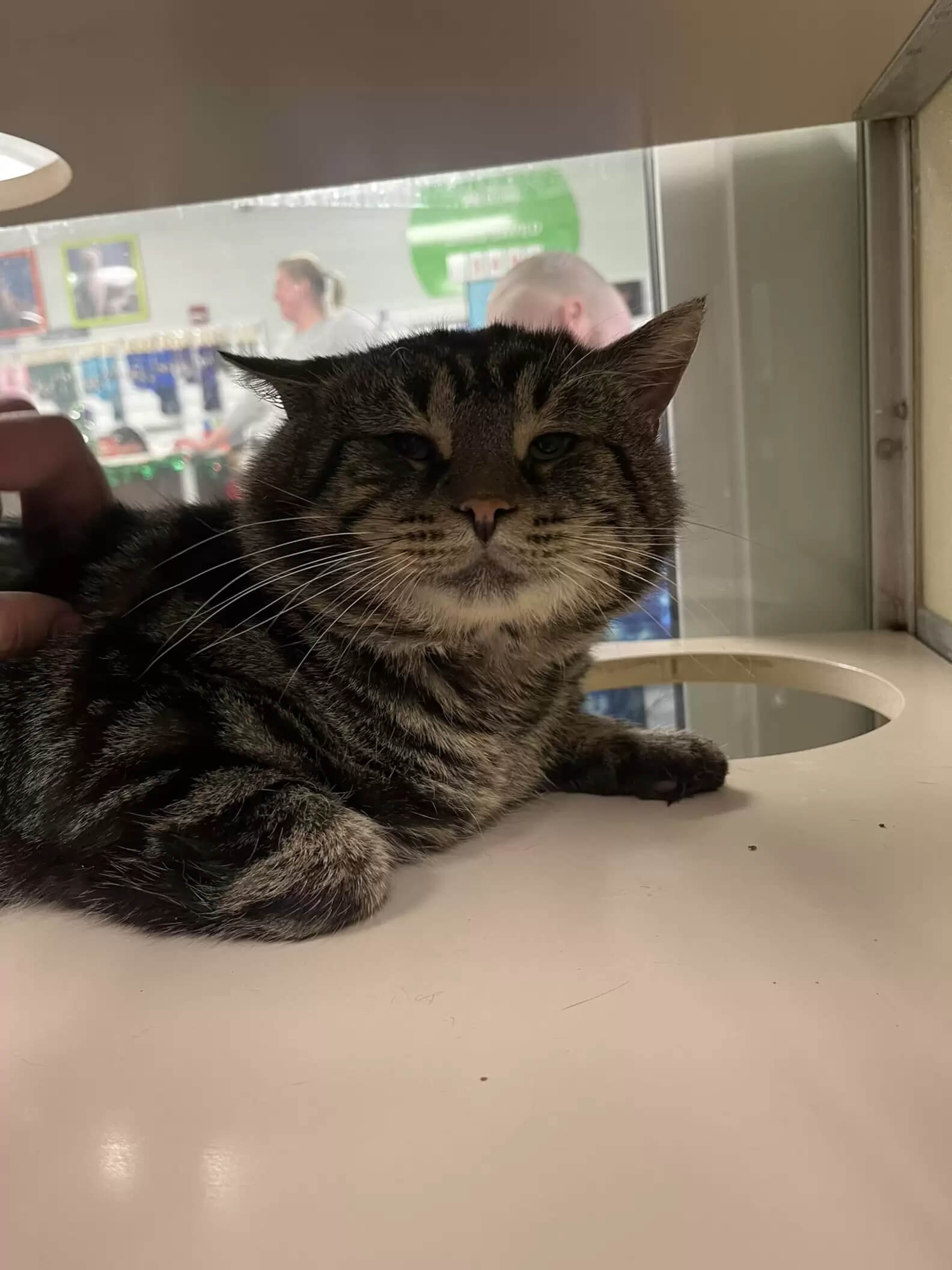 They got hundreds of inquiries from people who wanted to adopt him. Among them Laura Folts and Tanner Callahan was knew that they are going to bring him home. They drove two hours to the shelter and soon, Fishtopher became their official family member.
Even they going to miss him, Fishtopher's friends at shelter was so happy that he is finally having a home on his own. He was a shy cat but as soon as he got in to their car, he began to warming up to them.
The couple showered him with hugs and kisses. They eventually learned his favorite things to do.
He loves the couch and puree tube treats. He is always happy with treats. Even his facial expressions suddenly changed. His eyes became wider from being droopy. His ears are now perked up whenever he hears the sounds of the treat bags opening.
Fishtopher is now fully adapted to his new life with his family. He is now enjoying every moment with his family members. The couple is also obsessed with their new cat and gives all the love he needs. They are so happy that his sad face disappeared when he came to live with them
Finally, the former shelter cat is living in life of his dreams. He is the best boy now.