Well, it's just the beginning of 2020, yet here we are, facing a global pandemic: COVID-19.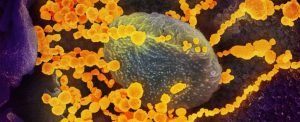 It's heart-wrenching to see death tolls all around the world. But, trust me, with medicine and experiments we have, everything is gonna be okay.
This news is about two scientists being able to map one's body's immune response to coronavirus. They could test the blood sample of a COVID-19 patient. 
The author of the study has stated to the journal Nature Medicine, it was for the first time the experts could map the body's immunity response to a novel disease. 
"We saw a really robust immune response that preceded clinical recovery," Katherine Kedzierska, from the University of Melbourne's Peter Doherty Institute for Infection and Immunity, stated AFP.
"We noted an immune response but she was visually still unwell, and three days later the patient recovered."
It is a matter of time with the spread of the virus. Hence, scientists are literally in a race to find a vaccine to fight the virus. By Tuesday, the death statistic was over 7,000 and more than 180,000 were positive coronavirus cases.
Keszierska told that research of her team was "an important step in understanding recovery from COVID-19.
"We have verifiable results in more patients with moderate disease. Now we can ask the question: what is different or missing in people who are fatally ill?"
She said the results had two practical claims.
First, the virologists will be able to find a vaccine as the goal is to find a vaccine to restore the body's immunity.
The research team could identify four distinct immune-cell populations in the blood of the COVID-19 patient as she was having recovery.
"Very similar to what we see in patients with influenza". Said Kedzierska.
Though it kills thousands annually, there are vaccines to fight against influenza. 
Immunity Markers
Kedzierska says screening is the second practical application.
These observations would give the health authority an idea of who is going to be at a major risk. 
The theory applied in these immune system "markers" could predict which patients have mild symptoms and which are at risk at dying.
It's found that the major number of coronavirus cases are from the elderly people of the ones who have an existing medical condition, like heart attack, diabetes, etc.
Yet, children show fewer symptoms or no symptoms at all. Kedzierska's idea is that more researches have to be done based on this. However, the immune system naturally slows down as people age.
The director of the Doherty Institute and one of the world's leading infectious disease experts, Sharon Lewin told AFP that the results were encouraging.
"It shows that the body makes a very good and powerful immune response to the virus and it is associated with symptom clearing," she said.
"Hopefully now we can fish out those antibodies and grow them up to scale," Lewin said.