Celeste Jaqueline Ayala is a policewoman from Berisso, Argentina, who demonstrated how great they can do even with the police uniform. She opened the doors of her heart and did not hesitate to breastfeed a malnourished baby. The baby was taken to the hospital for treatment for her mother's illness, but the hospital staff was too busy and couldn't take care of him. Ayala couldn't keep her thoughts and see the baby crying. She hurried to the baby to hug him and began to breastfeed. Ayala is so famous online because of this heroic act.
Fox News reported that Ayala was working as a guard at the children's hospital of Sor Maria Ludovica. The baby's mother was taken to the hospital due to illness. The baby's mother had financial difficulties caring for her children. The child has been described as "smelly and dirty." But that did not stop her. She asked the baby from the hospital staff when she felt the baby might be hungry. Ayala gently hugged him and began to breastfeed her. The boy felt comfortable with her touch and slept in her arms drinking milk.
Ayla told local media, Cronica, "I realized that he was hungry when he put his hand to his mouth, so I hugged him and breast feed him. It was a sad moment, it broke my soul to see him like this. society must be sensitive to the problems that affect children. It cannot continue. Marcos Heredia was part of this incredible incident and posted a photo on social networks, which has become a sensation on the Internet, surpassing 111,000 shares.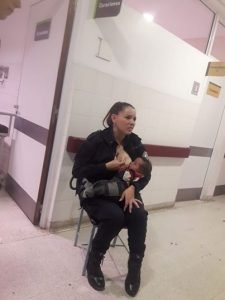 Marcos wrote in his message: "I want to make public this great gesture of love you made today for this little baby you didn't know, but you didn't hesitate to behave like a mother.even if he was dirty, that's what the hospital staff called him. Great job. "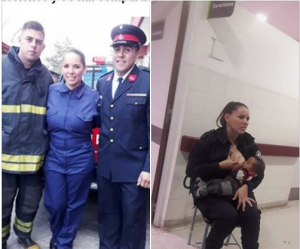 The local fire department also paid tribute to its action by posting a message on social networks, where Ayala volunteered to work. They wrote: "Gestures like this [take] fill us with pride and force us to redouble our efforts, work and solidarity with our community."