Guero is an elder lion. He had a very tough past. He spent his entire life in a private zoo in Mexico. The massive wild cat had to be fit into tiny cages all alone. That difficult life affected him both physically, and mentally. Fortunately, a local animal welfare organization found him just in time.
After rescuing him, the volunteers asked for help at the Wild Animal Sanctuary in Colorado. The kind-hearted people were more than happy to help. Then Guero was brought to the United States where he got the medical care he needed.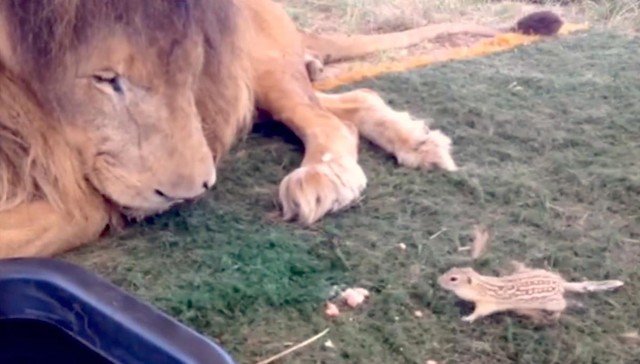 Then the rescued lion was moved to a sanctuary where he finally got the chance to live peacefully! It seems that he adapted very fast to his new home and he got new friends too.
He had old scars on his body as well as on his soul. But it seems that this giant still has an emotional and lovely heart inside his body.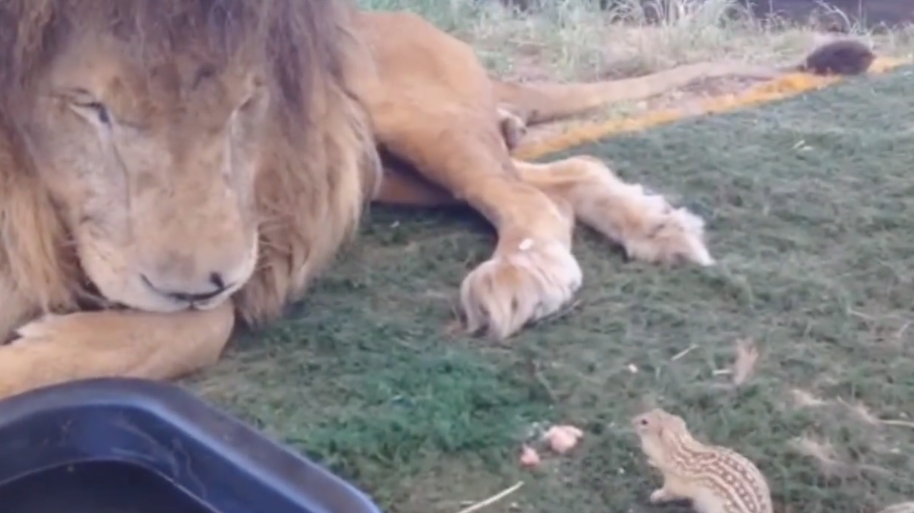 One day he was seen with a squirrel who visited his enclosure. It was captured by a caretaker on a camera, and that was a heartwarming moment! Guero even shares his food with those tiny visitors too. They are having a really lovely friendship.
This 13 striped ground squirrel does not look scared to the giant. After the meat break, Guero would love to have his whipping cream, and the squirrel likes it the same. And now it is happening more and more often. Such a cute bond they have!