It was another fine morning to Nate Ohlman. He was on his route, delivering the mail as he always does and suddenly noticed an elderly dog at the end of a dead-end road. He was huddled up in a ditch. It was freezing outside that day, in the middle of a harsh Missouri winter. The poor dog seems struggling to find a way to keep warm. Seeing him alone in the cold broke him and he decided to do something to help him.
Ohlman approached the dog slowly and then he realized that the senior dog couldn't hear or see well. He moved around a bit and made some noises until the dog could see him but he stood up and bolted for his mail truck. The dog was frostbitten, starving and all alone.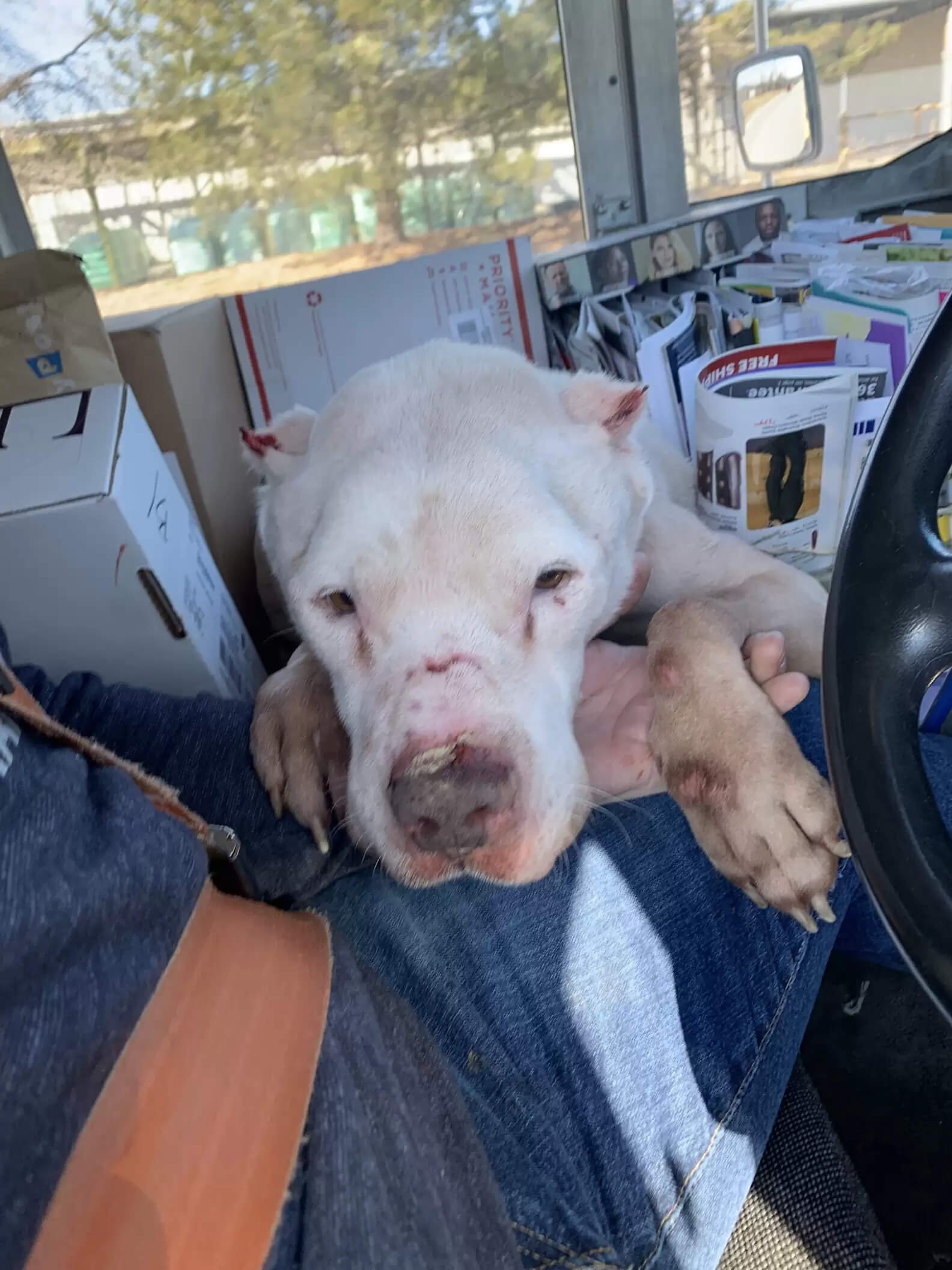 As soon as the dog who later named Sloan saw Ohlman he knew he was there to help him. Ohlman climbed into his truck with Sloan and looked at the skinny dog.
He rushed as quickly as possible to the nearest animal hospital knowing that he needs immediate help. He dropped him off at the hospital and made sure that the staff had his number so he could get updates about Sloan.
Then he went back to work but he couldn't get Sloan out of his head. He was in thought to adopt him.
Sloan ended up being taken in by KC Pet Project. The next day he arrived at their shelter and everyone in there was heartbroken to see him. he was severely underweight and he had sores all over his body. He could barely stand or walk on his own for a long time. the chief communications officer at KC pet project, Tori Fugate said that he had the lowest body score condition that their veterinarians could give.
The rescuers immediately started to give medications and fluids. They kept an extremely close eye on him for a few weeks. They were worried about what happened to him. But within a few days while receiving the best care he was getting better. When he was strong enough to move into a foster home, he has been on a long journey to recovery.
He became the sweetest goofiest dog ever. He needed nothing more than being around people all the time. He was getting all the love and attention he had been craving for 12 years as a senior dog.
When it was time to go for a forever home, Sloan's friends at KC pet project knew whom to call.
Ohlman was so happy when he found out that he can finally adopt him. And the pair's reunion was sweet to see. Sloan thanked his rescuer with kisses and cuddles. It was so sweet that Sloan remembered his rescuer.
Sloan has been settling in wonderfully to his new home and is in love with every minute of his life.