It is so cute to see a long line of little ducks swimming happily in a line behind their mother. Calm, swaying towards the surface, but small feet descend rapidly downward.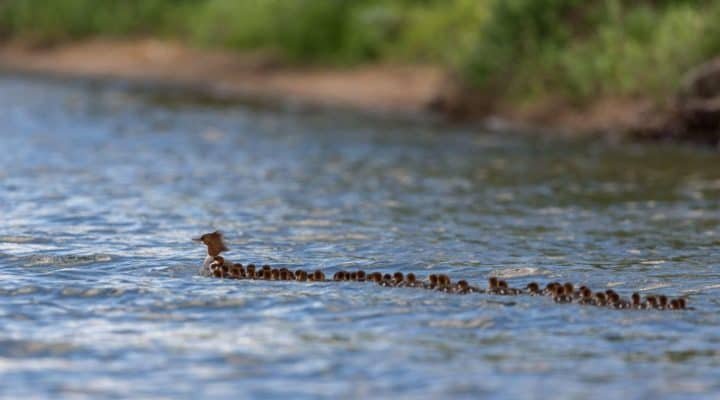 However, usually a duck mother is followed by five or ten ducklings. However, this mother is known  as "super mom" after being photographed with 56 babies in tow.
Brent Cizek is an animal photographer who is passionate about animals. Last winter, he bought a small boat to get close to the animals he love most. He hoped to capture them in his natural environment and his goal was successful. In the summer , he went to the largest lakes in Minnesota. The water in Lake Bemidji was rough, but it couldn't stop him. And it is also a good job. "Well, it was not the best idea because there was a lot of wind that day and the waves were throwing my boat in all the directions I wanted," Cizek said.
"I decided to continue, knowing that I was unlikely to see anything, much less take a picture with hard water."
But his hopes grew when he saw the common Merganser, a kind of duck, a mother with a trailer of ducklings.
"The closer I got, the more my heart began to beat, because I had never seen anything like it before," he said.
"I knew it was going to be a unique opportunity to take pictures in life, so I immediately tried to take as many photos as possible in the hope that one of the photos would be revealed."
"Then I was able to count 76 babies with her," she said. "So she picked up more babies on the way in. It's remarkable. It's a sad day when they will continue their migration."
Scientists have noticed that this is common in mergansers, but not all ducklings are related to the mother duck. It's more like a daycare system or a daycare for ducklings. But, as all of us who have children know, taking care of one or two of them, and much less than 76, is a great responsibility and a great task.
What do you think about these excellent photos and the skills of this mother duck in the care of children? Let us know in the comments and share with your family and friends if you liked it!