Are you married? Yes? Then, keep in your mind that getting married cannot change the way you loved each other. Marriage should enhance the love. So, if your husband does minor things as follows, yet you feel happy, then dear, you have found the 'one'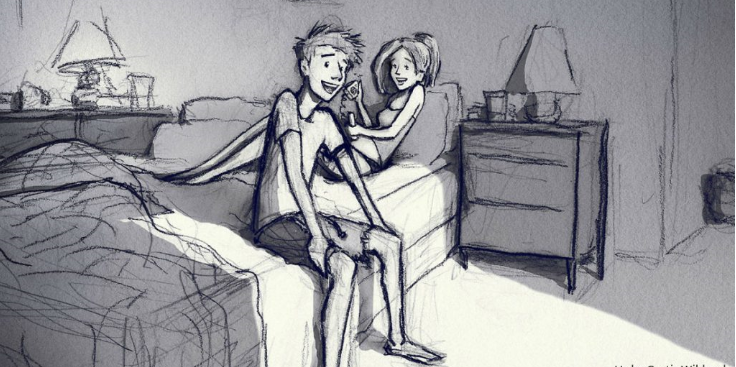 He often says 'I love you'
These are not just words because this should be coming out from the real you. So, if your husband sees your worth more often, then expressing it shouldn't be so hard.
He loves his mom
If your husband loves his mother, then loving you is simple because he has loved another woman before you. This means, he knows how to love, respect and care about you.
He still flirts with you as before
This never goes out of style. If he still flirts like the first days and makes you feel butterflies, trust me, he still loves you the same. Isn't it perfect when he does small things yet makes you, you have won the whole world?
He puts you before anyone, including himself
When you got married, it means that you two should take care each other. So, in a way, you are his responsibility. I know that we, women want our partner to choose us before anything. So, if he assures you and be with you in happiness and sadness, you have found the one.
He makes your life fun
Before getting marries, there are couples who says that being married is fun. So you get involved in one and find out that they are correct. It might be simple activities as walking the dog, going somewhere, but he makes it really fun because you guys are in this together.
He makes sure that you achieve your dreams.
Marriage is not a prison. This is being free and commited at the same time. So, once you get married, you cannot forget your dreams which once made you alive. And being  a supportive husband means he helps and encourages you to go for your dreams.
He lifts you up when you are down
He is your haven. So, no matter what life throws at you, he is there for you. No matter how hard a situation could get, you should be able to sort it out together.
He is a hard worker
Being a male is not easy. So, there can be situations where things start go crazy. There can be work in the office or makes him use his full energy for everything he does. But, he never forgets to make you his priority. Because, managing the work and family life is a great quality of a perfect husband.
He surprises you
It doesn't take much to surprise you with small stuff. Giving you a flower bouquet, taking you to a dinner out, taking you on long drive. These show that he is showing his love through surprising you.
He compliments you
No matter how long you have been married or what the situation is, if he still praises you, then you are the luckiest wife in the world.
If your husband does these things to make you happy, I warn you not to take him for granted. So, do the same for him and show that you feel the same about him.