Rex is an 11 years old German shepherd and he spent 8 years of his life in a shelter. He was found tied up in a junkyard.
Rex was a very aggressive dog. He bit several people at the shelter. And two volunteers always come to feed him. One distracted his attention. The other one changed the bowl of food.
Because of his aggressive behavior, he even got on the list of animals that should have been euthanized.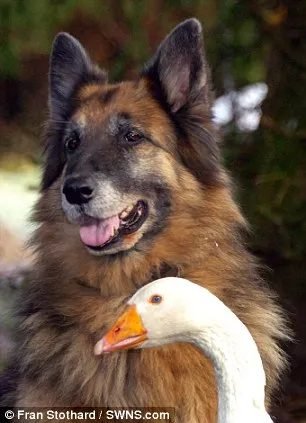 But they found out about him at the Puriton Horse and Animal Rescue Farm. They decided to save this creature.
By the time the workers of the farmers saw that the local goose Geraldine got into Rex's enclosure. They were frightened but that was the moment Rex met his savior. When he sees Geraldine, Rex's heart immediately melted. Then it seemed that they became best friends.
Rex's behavior completely changed. He became a different dog. He was not alone when the workers walk with him in the forest. She was always there for him. She runs next to him all day. Geraldine adores her new friend. And Rex also does not forget to lick Geraldine. They are very affectionate with each other and love to relax and even they sleep together.
The shelter manager Sheila says that she had never seen such a connection since 1997 in the shelter.
By the way, Rex's ex-girlfriend Vera is very jealous of Geraldine. And that's how their love triangle goes. With love and hugs from the shelter workers, she seemed okay. So she managed to survive the separation. She seemed less stressed.
And Geraldine with Rex continued to be the most incredible couple in this beautiful shelter. Let's wish them a happy life and this will teach you that a good friend can change your mood even in hardships.