The Eyes of Darkness. Is this title familiar, because this is a topic which is going viral on social media these days?
This is the title of the book written by the US, well appreciated, horror novelist, Dean Koontz, which has predicted the pandemic virus; Covid-19 aka Coronavirus which is spreading right now, while I'm writing this article. 
The plot unveils around a mother called Tina Evans.  Her son goes on camping one day and suddenly disappears making everyone believe that he's dead. This makes Tina wretched. As a year passes by, she has a dream that her son is not dead and she finds a message for her in her son's room saying 'NOT DEAD" This leads her to find out whether her son is dead or not.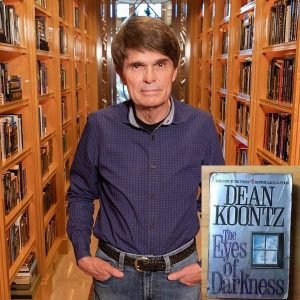 This book was first published in 1981 under the pseudonym Leigh Nichols and in 1989, it was published under his real name.
In the first publication in 1981, this book talks about a biological weapon called "Gorki400" from Russia.
And the 1989 version?
Chapter 39 in this book will give you the answer.
This version talks about a biological weapon called WUHAN-400 created by the scientist Li Chen, which is originated in WUHAN. Does this information ring any bell?
What do you think? Could this be a coincidence? If so, what made the author change the name and what is the reason for changing the plot from Russia to China and specifically in WUHAN????
Well, it seems, it's too odd to be a coincidence.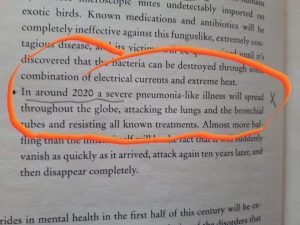 The virus is called "perfect weapon" in the novel as the only humans get affected by it. 
In a chapter in the novel reveals, "They call the stuff 'Wuhan-400' because it was developed at their RDNA labs outside the city of Wuhan"
This hullabaloo of the novel bought to the limelight by the Twitter user Nick Hinton.

We know that the Covid-19 we know attacks the respiratory system which causes to have pneumonia. 
But in the novel, the virus, Wuhan-400 influences the brain which releases a substance that eliminates the brain tissues which are controlling the automatic functions.
Also, Wuhan-400 is 100% fatal while Coronavirus is only 2%. 
However, against all the odds, it's obvious that there is a virus in 2020, which is originated in China, as described or predicted in the novel, spreading around the world killing people. 
Although the author hasn't commented on the sudden outbreak about the ESP yet, the following Tweets will show you that the Twitter users take this seriously.