Everyone exhaled a sigh of relief as lion cubs Prada, Taras, Stefania, and Lesya ventured out into The Wildcat Sanctuary (TWS) in Minnesota. The troop of young bear cubs eventually arrived in the United States from their natural habitat in a war-torn nation safely.
All of the less than one-year-old cubs were first rescued from pet trafficking in this European, war ridden coutry. When war broke out, the young lions were in danger while receiving the treatment they need at a rehabilitation facility in the nation of Eastern Europe.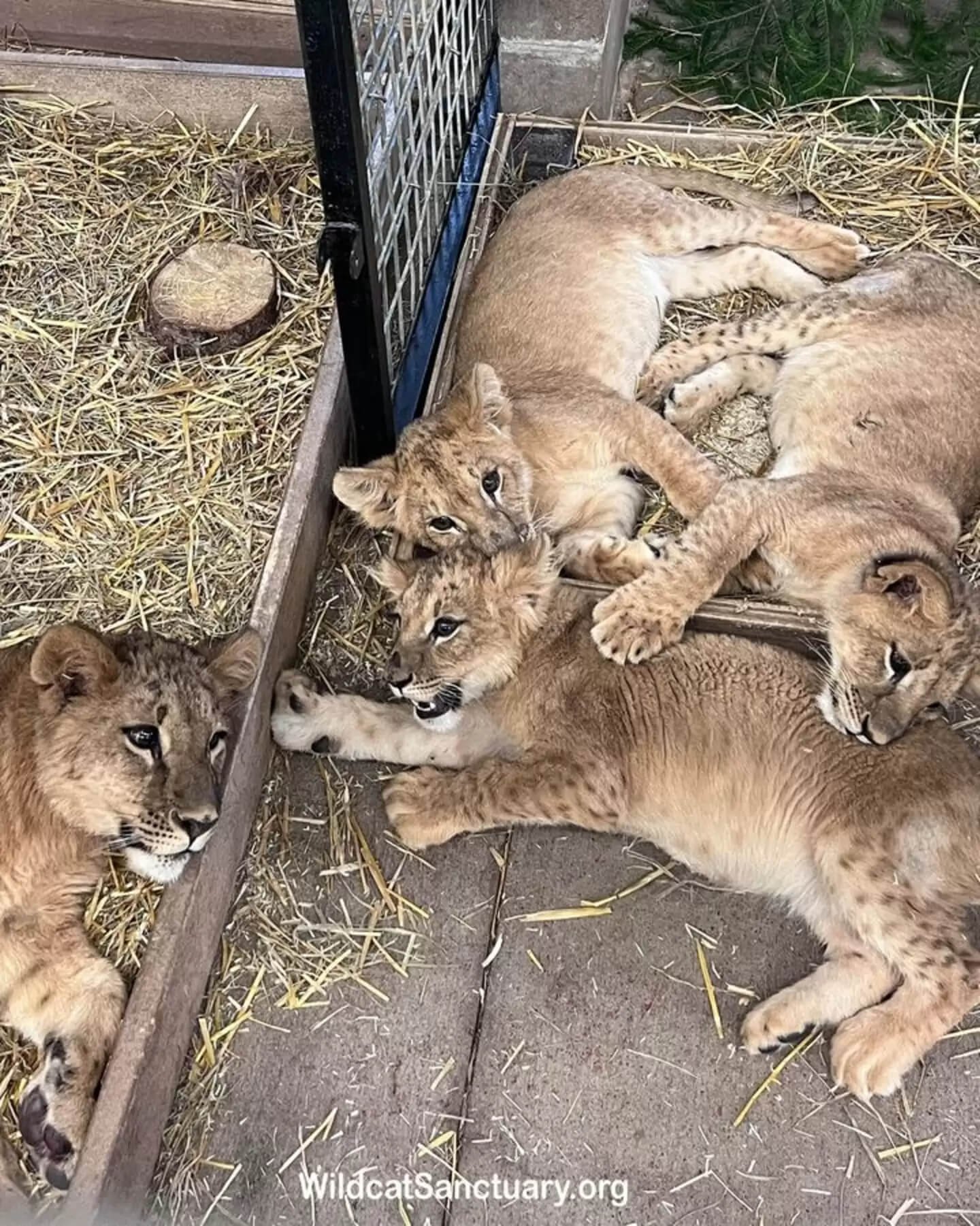 Tammy Thies, executive director of TWS, said in an interview: "The cubs were surrounded by loud shelling. The rescue groups often had no power or electricity, yet they were all dedicated to getting these cubs to safety."
When the cubs' rescue organizations requested assistance from the International Fund for Animal Welfare (IFAW), TWS stepped in.
Thies stated, "Our crew has expertise with translocating big cats internationally, but none during such violence."
But Thies consented to provide the four cubs with a new home. It would be difficult to get them from this war ridden country to Minnesota.
Lesya, Taras, and Stefania were first moved from Odesa to a rescue in Kiev. They ran across Prada there, who had joined the traveling group of rescued cubs. Following a few days of recuperation in Kyiv, IFAW sent the lions to Poland's Ponzan Zoo so they could be shipped to sanctuaries in the US and Europe.
According to Thies, the journey took 14 hours to complete plus more than 8 hours of waiting at the border crossing post.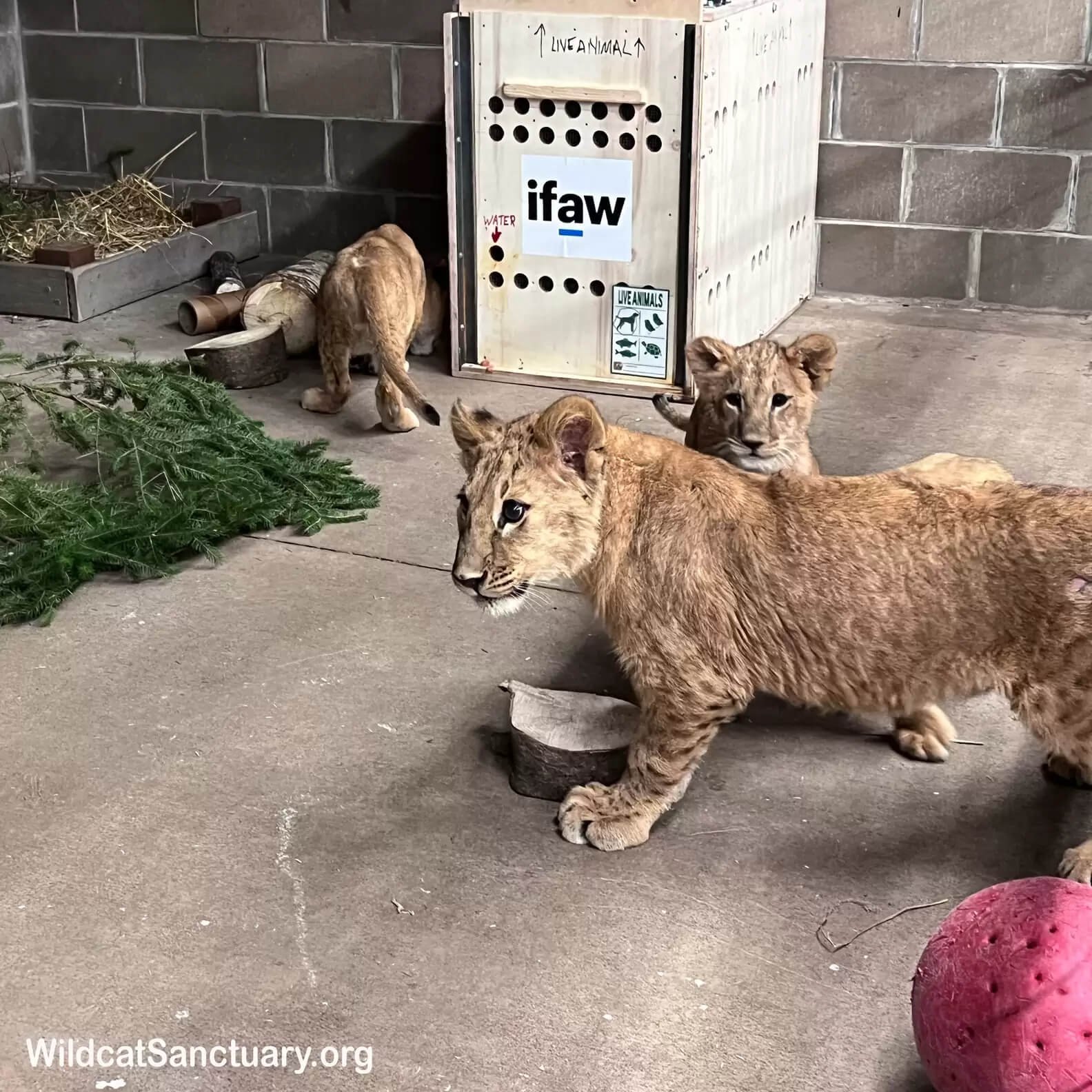 But the cubs managed to travel across the border to Poland, where they were quarantined for a month before continuing on to Minnesota.
While the cubs were finishing their quarantine, IFAW and TWS collaborated to get U.S. Fish and Wildlife import licenses.
To make this happen, Thies added, "so many elements have to line up exactly."
Thies traveled to Poland to join the cubs on their voyage to their new, permanent home as soon as she got the necessary U.S. licenses. She spent a few more days at the Ponzan Zoo creating containers for the cubs and procuring Polish export licenses.
In an effort to board a flight to Chicago, Thies and the group of cubs traveled to a Warsaw airport four days later, which was four hours distant from the Ponzan Zoo. The troop of lions and their committed rescuers were ultimately granted the all-clear to depart Europe after enduring lengthy checks from customs and extra wildlife vets.
We were all able to sigh with relief for the first time throughout the 10-hour journey from Poland to Chicago, according to Thies. We didn't find out about the rescue until we boarded the plane in Warsaw for the United States.
The journey had less of an impact on the cubs than Thies had anticipated.
They utilized the flight to acquire some much-needed sleep, similar to how we did, Thies stated.
The cubs and their rescuers arrived in Chicago safely after ten hours. Before starting the final phase of their journey, a seven-hour drive to The Wildcat Sanctuary, they underwent inspections by the U.S. Fish and Wildlife Service and customs.
Thies reported that it was snowing, windy, and wet. "However, why wouldn't it be? It was never going to be an easy path."
After starting their journey out of thr country, the cubs arrived at TWS at midnight, some 36 hours later. They arrived there and quickly started adjusting to their new surroundings.
They immediately began exploring both their indoor and outdoor habitats, according to Thies.
The cubs appeared to adapt quickly even though they were put in a brand-new surroundings.
The cubs have shown incredible bravery and maturity, Thies said. They encourage one other, and I believe it has increased their confidence.
The cubs' personality have grown since coming to TWS. Thies describes Taras as an inquisitive cat that enjoys climbing. Although Prada is the largest of the four lions, she is more anxious than her siblings who were rescued. Lesya is the tiniest member of the group, but she is also the most loud. Stefania has taken on the role of the group's peacekeeper.
TWS said on Facebook, "It's really lovely to watch her checking in with her big'sister'."
The troop of cubs enjoys roaming around their expansive environment in the Pride Prairie area of the sanctuary, even though they now have cozy inside sleeping quarters. This is especially true when it is snowing.
The cubs will spend the remainder of their lives at The Wildcat Sanctuary in Minnesota, where they will get all the love and care they require for the next 20 years or more.
"It is an expensive commitment," Thies added, "but one rewarding to see them live wild at heart in a safe setting. It costs us $10,000 a year to provide for one huge cat."