Elephants are cuter when they are little in age. Also, they are known for their sweet tooth and enjoy foods such as bananas and sugarcane. They commonly run into local farmer's fields just to have some chill with the delights.
This moment was captured by a tourist on a Thai highway. It was a baby elephant, who was blocking the traffic by stealing sugarcane from incoming vehicles.
In the footage, the elephant is seen stepping onto the road and seems that be delaying traffic. It may steal sugarcane from the vehicles pass by.
The elephant named Auan-tia is a younger one and has spent the majority of his life in a nearby sanctuary. When he stepped forward the cars, they had no choice rather than slow down and let him investigate more.
He stumbled upon a vehicle with an open-top. And decided to go for it and in the process, he had produced full gridlock.
Do you have anything to do when a giant creature is searching your car for his favorite food?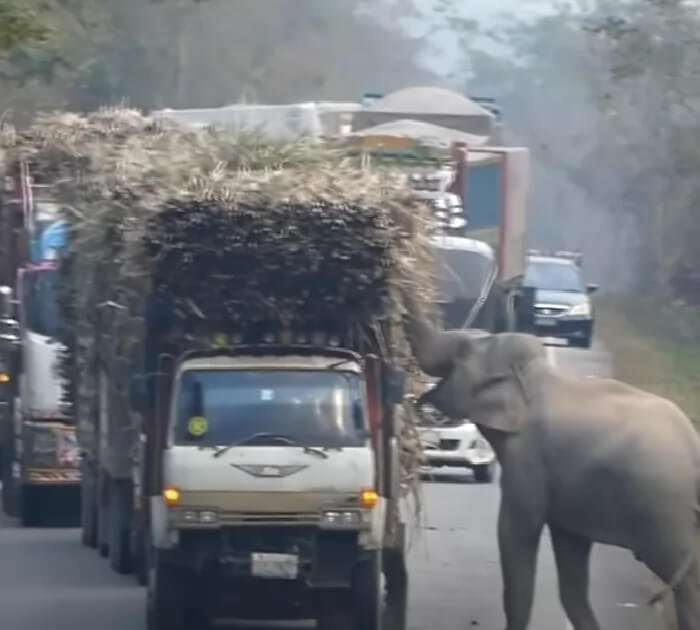 Before returning to the jungle, it was recorded that there were over 12 different cars within a two-hour span that the elephant attempted to steal from. No one dared to approach the giant and put him back in the bush. For several minutes he rummaged into each vehicle that had been traveling from a nearby farm. After searching one after one, he filled his stomach with sugarcane and tapioca.
Wildlife officials have already cautioned motorists to be wary of the animal although the elephants in the region are friendly and rarely cause harm to humans. It was a rare case in which the giant stopped a huge number of vehicles and refused to go.