April Hollingsworth and Bryan Krieger have much experience working with animals, both on the sanctuary and in the natural areas that surround their secluded home in rural Tennessee's Fabled Farm Rescue & Sanctuary.
It takes a lot to catch Hollingsworth and Krieger off guard, but Greg, a very peculiar groundhog, recently accomplished that feat when he showed up on the property and decided Krieger was to become his new closest buddy.
Hollingsworth added in an interview, "It was definitely a crazy experience."
Even though Greg's visit was brief—only about 10 minutes—it was jam-packed with surprises. Krieger gently shooed Greg away when he first saw him patrolling their barn. Greg, though, would not be dissuaded. Greg was immediately behind Krieger as he threw himself in front of the lawnmower to mow the lawn.
Everything happened very quickly, according to Hollingsworth. "We were just looking at each other, like, 'What is happening?'"
Krieger and Hollingsworth frequently checked on Greg from a distance out of concern that he could be ill or in need of assistance, but they never noticed any obvious symptoms of discomfort. The young groundhog appeared to be having a good time.
Greg eventually waddled back into the woods, leaving Krieger and Hollingsworth speechless.
Krieger and Hollingsworth submitted Greg's video to their vets and a nearby wildlife rehabilitation center in order to get a professional assessment. The experts cautioned the sanctuary owners to keep an eye out for Greg's return trips and to keep an eye on him for any strange behavior since it may be a symptom of illness. Greg, however, never showed up, supporting the two's initial hypothesis that the lively groundhog was simply having an extremely bizarre day.
Although normal operations at Fabled Farm have resumed, Krieger and Hollingsworth will always remember their brief but unforgettable time with Greg the groundhog. The two are really thankful to Greg because of how much support the refuge has received as a result of the widely shared video of his visit.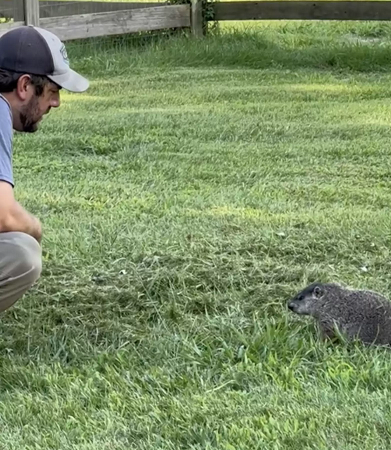 It's incredible that all of these individuals managed to locate us, remarked Hollingsworth. We are entirely managed by volunteers and supported by donations. Thus, this is significant to us. It's enormous. And we respect that."