There are several ways to memorialize the memory of cherished dogs that have died, but music composer Noam Oxman developed a particularly inventive one.
He turns animals into lovely music.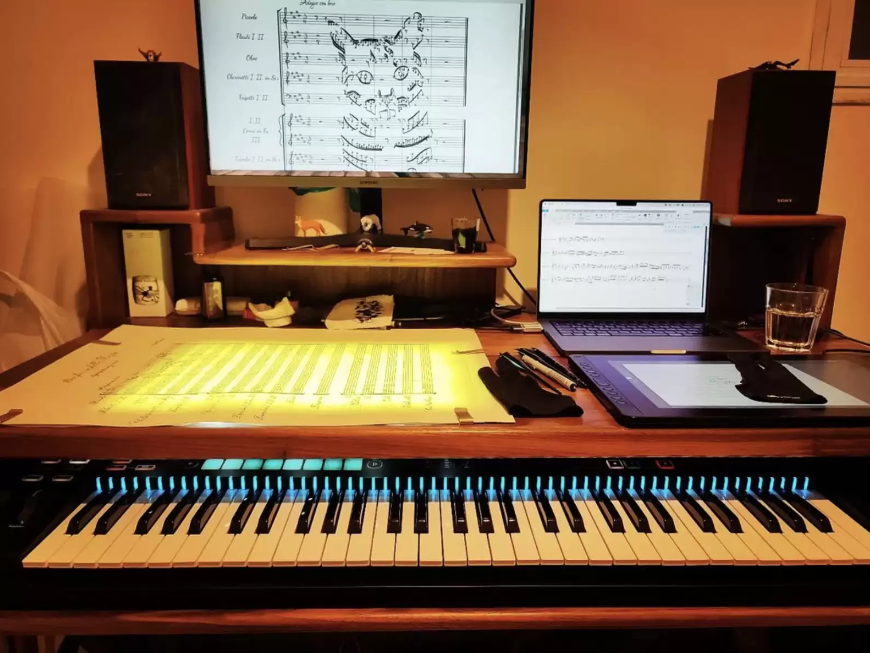 Oxman started a project called Sympawnies a few years ago. The concept is beautifully simple: write music in celebration of people's pets, composed in musical notations that physically draw on the dogs' own images.
The end effect is attractive to the eyes as well as the hearing.
Here's one such piece, made for one of Oxman's patrons in memory of their pet named Chubby Cat:
"Chubby Cat was charming and lively, and the ideal cuddling companion," Oxman wrote. "With a sprinkle of lively piccolo, a touch of warm strings, and a nice harmonic development — ideally, the music sounds just a little bit like him. Chubby Cat, rest in peace."
Another recent piece, written for a little puppy named Foxxy:
Though Oxman seldom gets to meet the creatures he memorializes in song, he learns about their characteristics in the hopes of capturing their souls in the music he composes.
This was the situation with a puppy named Henri.
"I was told by Henri's human that he was a really happy dog, and I wanted to express that in the music as well," Oxman wrote. "I sincerely hope that this piece serves as a meaningful way of remembering Henri for his people."
Oxman also composes music for living dogs in this manner. However, having these memorial compositions to gaze at and listen to no doubt helps to provide consolation to bereaved families. Similarly, Sympawnies are more than just an artistic expression for Oxman.
In an interview, Oxman had this to add: "Creating those pieces and having people from all around the world appreciating them so much and putting their trust in me to honor and memorialize their beloved pets fills me up with true happiness. I am 100 percent emotionally attached to my work because I love creatures further than anything differently!"