Maggie lived by herself in a dusty yard for a long period. The only home she had was a dilapidated wooden box. She was covered in flea bites and sadly couldn't play as she was tied up to a short rope.
But she didn't care about it, and she maintained a joyful spirit. When rescuers found her they were shocked by how incredibly trusting she was. Worthy Dog Rescue wrote in a Facebook post that it was apparent that she loved people. She wagged her tail with joy at even the slightest bit of human attention she got.
Maggie was then taken to the shelter and began to decompress from her stressful life and received the necessary care for her skin condition. Maggie was a joyful dog inside. When she regains her strength she began looking happy on the outside too.
The rescuers did their best for her to find her a forever home. After a few weeks, she realized how it feels when others are caring for her. She had some incredible foster families and she was comfortable around other dogs. The rescuers knew that as a senior Bully-mix who had a hard life before, it would take some time for her to get adopted.
Eventually, a woman was interested in Maggie after seeing her bio on the shelter's website. She was already applied to foster a different dog but when she saw Maggie she knew that they are going home!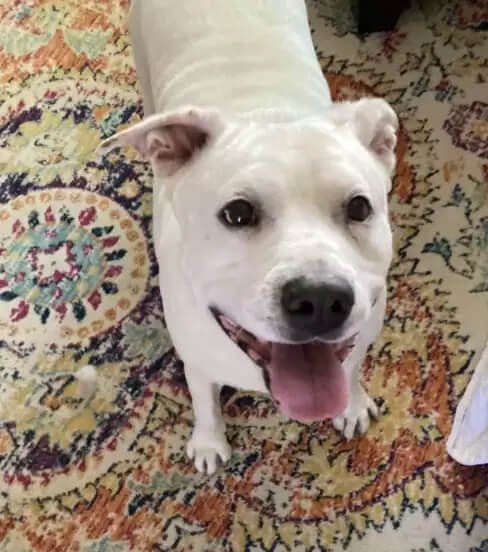 It was a life-changing event for Maggie. Her new human mom offered her an only-dog home and had a flexible schedule to give her the time and attention she needed.
Once she was a lonely dog who had no one to play with and now she has everything and a forever family to live with! Maggie loves to snuggle up on her family's lap and beg for scratches.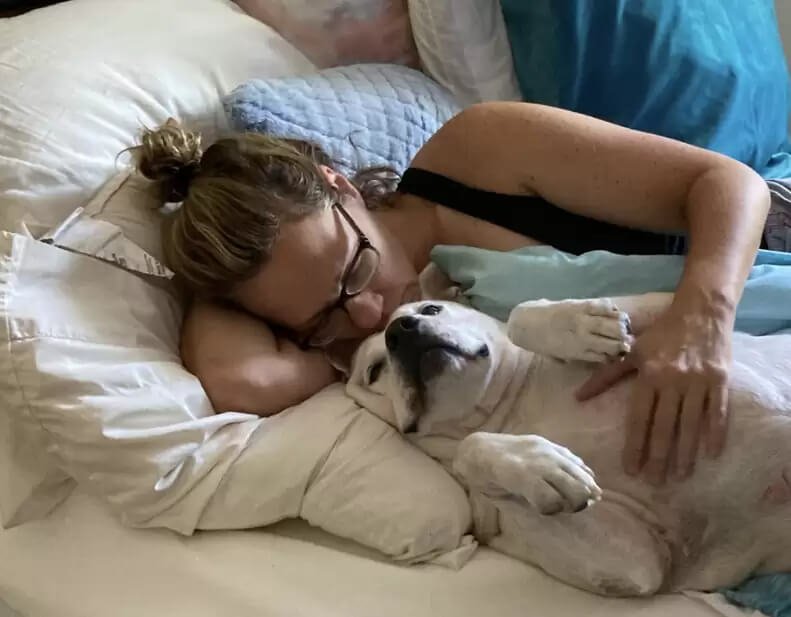 Even the family never thought that they could love another dog after their 13 years old Lab. But Maggie makes them feel the love for her and now they can't imagine their life without her.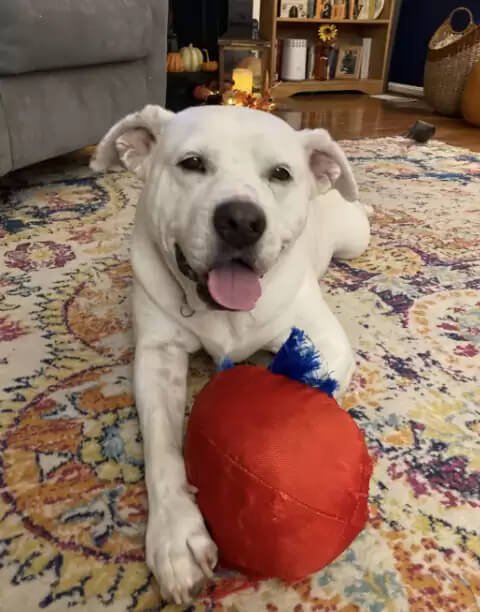 Maggie's new family is always giving her a positive force in her life. She is providing them with the love as same her family and they have bonded together within a little time.
The dog who once slept on a dirty piece of wood now spends her days snoozing on a comfy couch! Life is such an amazing thing! Maggie knows the love she gets now is forever and sleeps peacefully.