Martin Studer is a postman working in Brisbay, Australia. There is one resident on his daily route that he looks forward to meeting each and every morning. Who, you may ask? It's none other than a beautiful golden retriever named Pippa.
You could instantly see that Pippa also looks forward for Martin's visit as she rushes to the gate as soon she spots him.
Pippa is a very cheerful dog, who is madly in love with taking letters to her owners. Pippa's heart breaks if Martin has nothing for her, as she isn't able to delight her owners with getting their mail.
In an interview, the postman says: "I decided I had to come up with something." He came up with a brilliant idea to write "Mail for Pippa" on a letter, when he has nothing to give the dog, so that she can proudly take it home. Due to this heartwarming action, this Australian Postman has become famous and beloved to Pippa as well as the residents of the area.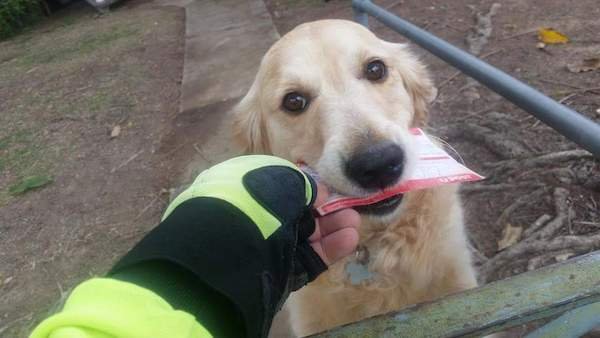 Who else would do so much to keep their customers happy?