Some people despise Covid-19 while some people try to make the best out of it. I know it IS boring to stay inside all day. But, the positive side is, this is the time you get to realize yourself. This time, you' ll be able to complete what you started. Trust me, staying at home is not as bad as you think.
We all know that via social media, we engage in many activities to kill our boredom. One of the viral activities we do is dare games on Whatsapp. 
We get many challenges on WhatsApp, and one of them is uploading a selfie with 'Isolation Buddy'. 
Just as us, celebrities too are stuck in their places. So what the son of late 'Crocodile Hunter'; Steve Irwin's son; Robert Irwin posted on social media with his Isolation Buddy went viral. 
Who do you think his isolation buddy is? Well, we would expect a human companion. But what 16 years old Robert has is a tortoise named Igloo. Just what we need.
Robert Irwin (@RobertIrwin) March 31, 2020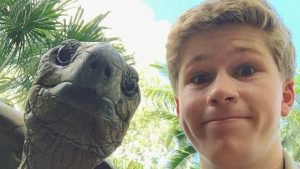 The selfie of Robert Irwin with Igloo captioned as "My self-isolation buddy," and it has got  more than 800,00 likes so far.
This tortoise is an Aldabra one according to the Australia Zoo's website, an organization owned by the Irwin family. Also, from what Smithsonian's National Zoo & Conservation Biology Institute points out, this tortoise species is"one of the first species to be protected to ensure its survival."
This photo was taken a few days after the stay-at-home orders from the Australian Prime Minister, Scott Morrison. 
From the latest data from Johns Hopkins University, in Australia, there are more than 4,800 Covid-19 cases and 20 deaths so far. 
As the government regulated to cancel gatherings due to the virus, Bindi Irwin revelaed that she had a guest-less wedding.
Bindi wrote on Instagram sharing her big event that she had "planned this beautiful day for nearly a year and had to change everything, as we didn't have guests at our wedding. This was a very difficult decision but important to keep everyone safe.
We wish all of our friends and family could have been there with us, however, it's lovely that we will be able to share photos and videos,"