When the employees of Brother Wolf Animal Rescue got at work one recent morning, they discovered something strange: a cat carrier was sitting in the fenced-in play area. They decided to check because the plastic box hadn't been there the day before, and they swiftly discovered a terrible story. Inside, two cats nestled together, and someone had written a letter on the container.
"My name is Baby," said the note. "My mother can no longer care for me. Please locate a new home for me and my sister. Thank you very much!"
Both cats were clean and had been brushed lately. They appeared to be in good health, and it was evident that whomever had abandoned them had adored them.
Brooke Fornea, director of marketing and visitor experiences at Brother Wolf Animal Rescue, stated in an interview, "When we saw the note, it hit us hard." Several tears were shed. Our hearts fell for both the kitties and the lady who had to abandon them. We can't image how difficult that decision had to be, or what had transpired to get to that position."
The kitties were discovered immediately before the shelter opened for the day, according to surveillance footage. Whoever left them knew they'd be found quickly and taken inside, so they put them somewhere secure, in a shaded corner in a fenced-in area.
The cats' former owner done all possible to ensure their well-being — and the shelter wants that person to know they're prospering as a result of their decision.
"Having to leave them must have been devastating," he remarked. "It is actually one of the reasons we posted them on our social media pages, so that, hopefully, the owner would see it and have some closure knowing they were safe and loved."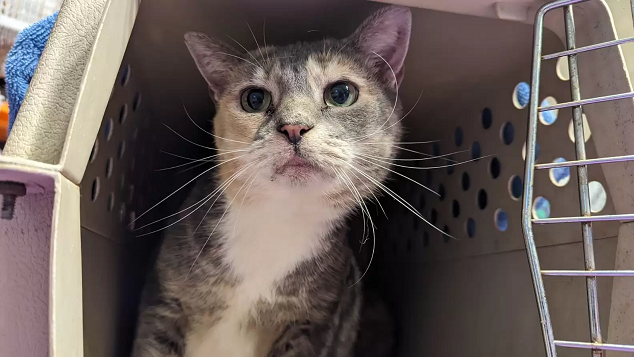 Baby and her sister have now been adopted by a new family and are doing quite well. Their new family adores them and is grateful to their previous family for ensuring they have the greatest life possible.