There are times that we start spending more time away from home, away from our furry friends. Because of this, we tend, in our own way, to adjust to a new routine. The last thing we want to do while working is worry about our pets being bored. Therefore, you should give them something to stimulate them and keep them occupied until you go back home. So some ground rules before you leave your pet at home is to give them enough food and water, walk your dog before you leave, and pick up any or all items that will be harmful for them.
So we've compiled a list of toys, and tricks of the trade that will keep your furry pets entertained when you leave them on their own. You can also setup a Google Nest Cam to check up on them while you're out. The Google Nest Cam has built in intelligent alerts as well, so that you can check on your furry friends any time you want from wherever you are.
Make a safe space for your furry friend
First of all you need to keep your cat or dog in the area of the house where they're most comfortable, secure and happy, somewhere they won't do anything naughty. For dogs, you could always section off a place like the living room with their favorite toys and a cuddly cave bed. For your cats, you could always make a spot on any windowsill with a good view, and even leave out a self-warming bed.
Fill a toy with frozen treats
Fillable toys hold the gold standard to keep pets busy. Fill a hollow rubber toy with peanut butter or any other favorite flavor of your dog and freeze it overnight: your dog will have hours of licking fun. For cats, you can use something similar and fill it with treats which will dispense as they play and have an interactive challenge.
Secure the entertainment
There are several TV networks, YouTube channels and even radio stations that would keep your pets engaged and calm. For puppers, before you head out for the day, you can turn on DOGTV, which has programs to help reduce stress and anxiety of dogs throughout the day. For your furry and at times lazy cats, there are numerous fun YouTube channels filled with kitty-approved games and flying birds and moving scenery.
Lure the entertainment to your window
You can make a window feeder, and feed your hungry backyard birds and give your cats something to watch as well. While the birdies flock to the feed, your cats and kittens will be glued to the action at the window. This is also a very low-cost way to keep your cats occupied for hours at end.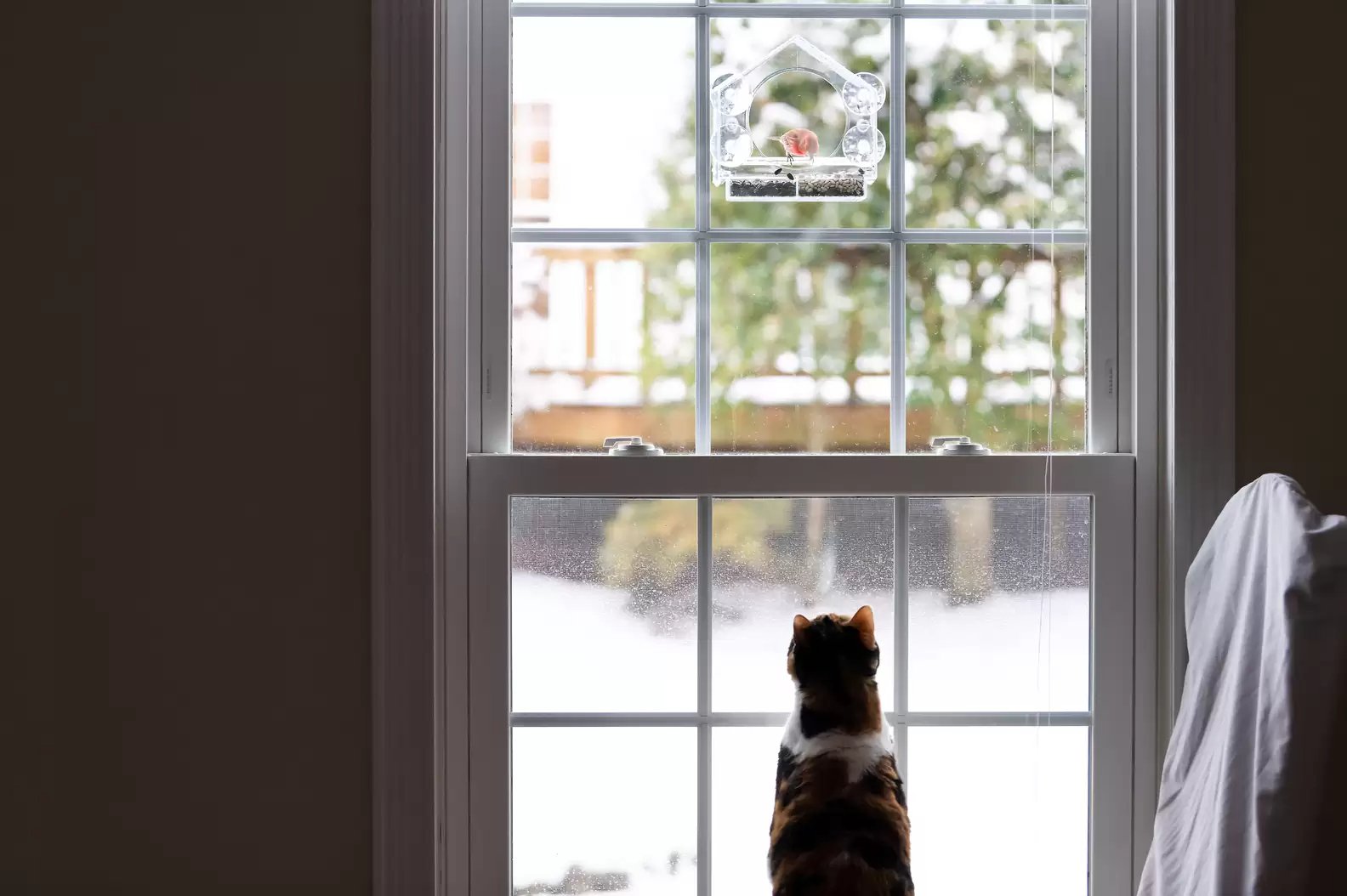 Rotate some brain game toys
Another thing that keeps your pups and kitties mentally stimulated are treat dispensing and puzzle toys that reward them when they complete a challenge. This keeps them away from destroying your house and helps them tap into their natural instincts to hunt and forage. There are several types of these puzzle toys like a hidden toy box or treat maze for cats and interactive puzzles or fun wobbly toys for dogs.
Lay out a snuffle mat or scratcher bed
Something that you would want to watch your pup get into through your Nest Cam intelligent alerts is on the snuffle mat. They come in a range of adorable patterns to keep all those pups engaged with nose play. You can sprinkle crumbly treats on this mat and let your dog loose to go treat hunting. For cats, on the other hand, have a two-in-one scratcher bed which usually comes infused with catnip, which will mainly keep claws away from any of your furniture and also provides an amazing nap space for your cat.
Being a catnip fairy
So, if you're a cat person and have cats, before you go out for work, don't forget to sprinkle some catnip on cat beds, various nooks and crannies or even on toys. This will allow them to discover these throughout the day, get excited, start rolling or licking until they start to snooze. You could also buy some catnip toys and keep them out just before you leave to keep your cats on their paws all day long.
Tap into your pet's thrill of the chase
Most of our furry four legged friends love to chase anything and everything in sight. If you are an owner of such a pup or kitty, you can try a toy that rolls, jumps and wiggles. For your cats, find one that turns on and off at random times, which will give them something to hunt when you aren't home. For your pups, you can use an electronic toy which has an app you can download on your smartphone, so that you can have some fun controlling it remotely. You can then watch the hilarity on your Nest Cam while you control the movements of the toy.