Sassy and Shadow have never spent a day together until the Jackson County Animal Shelter (JCAS) workers met them. Although Sassy is a 6-year-old dog and Shadow is a 1-year-old cat, their relationship is unlike anything the deliverance platoon has ever witnessed. They are an unreliable pair of fashionable musketeers who won't act in pieces.
Sassy and Shadow were abandoned by their family and placed in a field by a kind stranger. Sassy and Shadow could have split up as soon as they were dumped because there were no fences or barriers in their way, but instead, they stayed by each other's sides and watched out for one another until aid could arrive.
Lydia Sattler, JCAS's beast services director, had this to say in an interview "This cat and canine were virtually fused together. It's really rare to see that."
The Good Samaritan saw that the dog hadn't eaten in a while, so he quickly left and returned with some kibble before setting it down in front of the dog. He let her eat all of the food, but to his astonishment, Sassy did something very unexpected.
"The canine let the cat eat first," stated Sattler. She remained seated as the cat dined from the dish, waiting for him to finish before she took a bite. It was just delightful.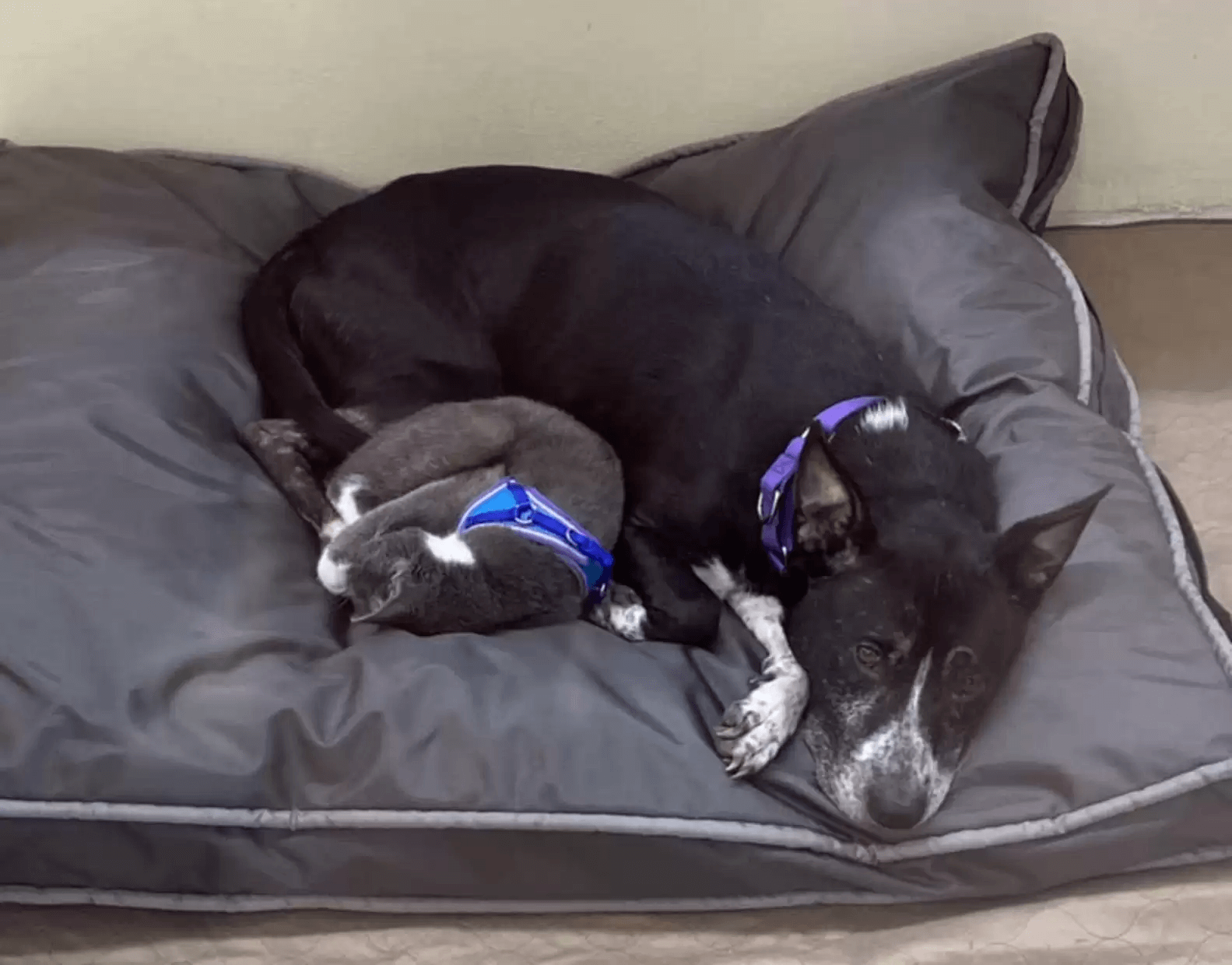 The guy phoned JCAS for assistance in capturing the two monsters while he was feeding them. Sassy and Shadow didn't kick when a squad of rescuers showed up; instead, they joyfully entered the vehicle and took their normal positions.
The cat and dog immediately curled up together after being placed in the back seat of the vehicle, according to Sattler.
The two siblings peacefully slept off next to each other on the comfortable lift ride to JCAS. The deliverance platoon was aware that the brace must not be separated, but until they reached the sanctum, they were unaware of how challenging that would be.
Sattler added: "When they got then, we didn't want to separate them, but we've a canine-specific room and a cat room. There's a large space for multiple cat casing that was available, however, so we decided to put them in that room so that they could stay together."
Sassy and Shadow took sure to stay close to one another while they got used to life in the sanctuary.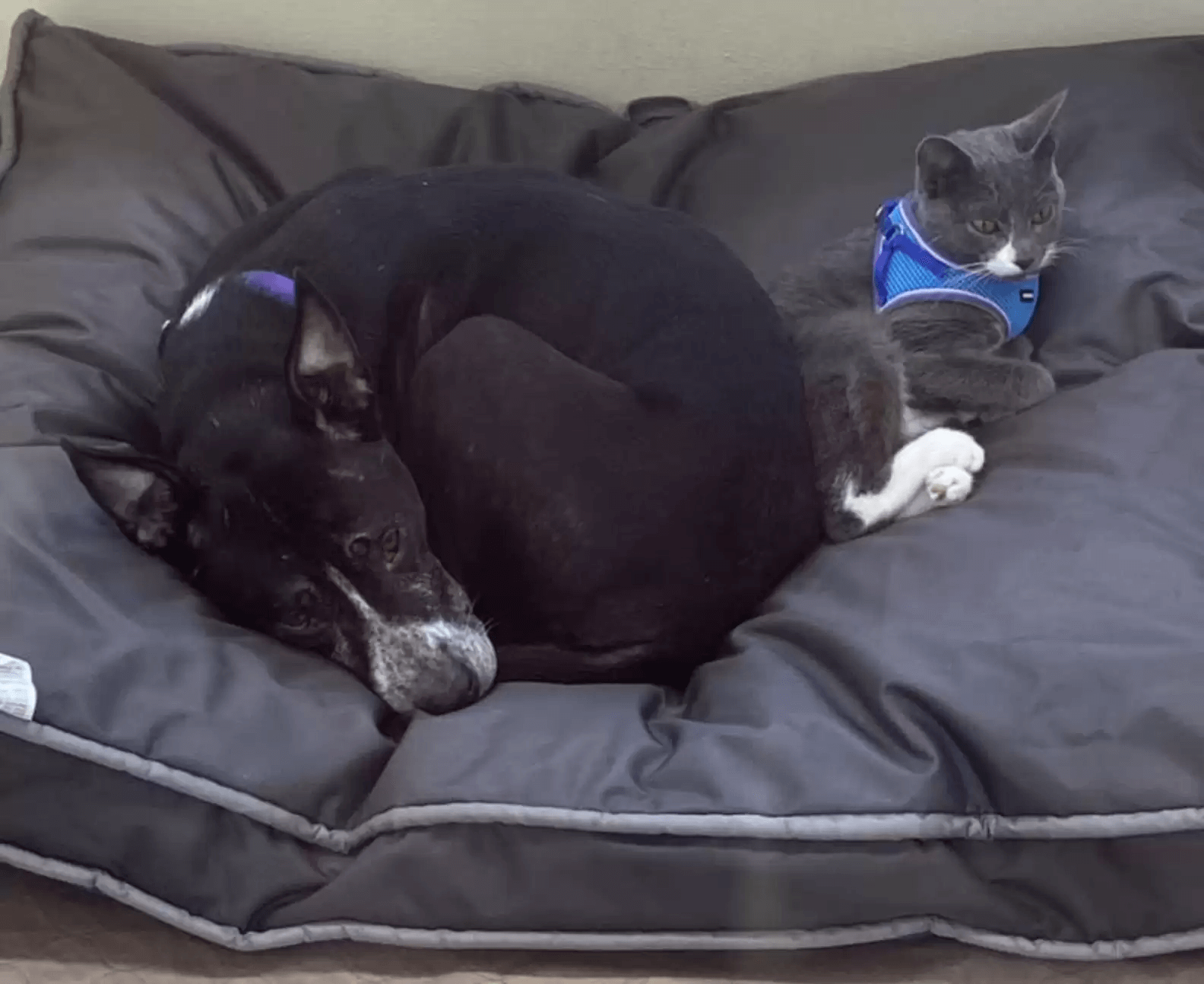 The cat followed the canine wherever she went, according to Sattler. Every day, they cuddled next to one another. Our team would come in each morning to see what funny thing they were up to. It was simply so endearing.
Sassy and Shadow's close relationship made a lasting impression on their JCAS musketeers, who were aware that the two insisted on locating a permanent residence together.
They overcame all they have faced thus far as a group, according to Sattler. "So, we were aware that they needed to remain a unit."
Sassy and Shadow's eternal home was sought out by Sattler and her crew in all possible places. A little more than a month after they were saved, their dream was finally fulfilled.
They eventually found a wonderful home where they could maintain their friendship, Sattler added. They are still having a good time together and are not concerned about hunger any longer.
Sattler frequently receives updates from Sassy and Shadow's new family, and she finds it heartwarming to see the two closest friends still standing by one another. One thing hasn't changed despite their new exciting and adventurous life: their unwavering love for one another.
The JCAS caretakers for Sassy and Shadow miss seeing them cuddle every day, but they are overjoyed to know that the adorable pair is exactly where they should be.
They are receiving a lot of affection from their family, according to Sattler. "And now they're enjoying life at last,"