Last year, during the wildfires in North California, a bear cub named Tamarack was rescued, but sadly, his paws were burned in the blaze. While undergoing treatments at a wildlife care facility for his injuries, he sneaked past the rescuers back into the wild.
Fortuitously enough, given the ordeal he had gone through in the past, the cub is alive and doing well, and we even found the most adorable video to prove it:
After the cubs' escape from the wildlife rescue last summer, Toogee Sielsch, a wildlife enthusiast, started recording Tamarack's movements on several trail cameras scattered throughout the forest close to home. According to the recordings of Toogee, it seemed that the orphaned cub had exceeded all odds, and it seems that he's been thriving, not simply surviving.
However, recently, one of the cameras installed by Sielsch captured Tamarack at a large puddle about to take a bath, but alas, he was not alone. The cute little bear cub had brought along a toy bear figurine, which he seemed to have found and befriended.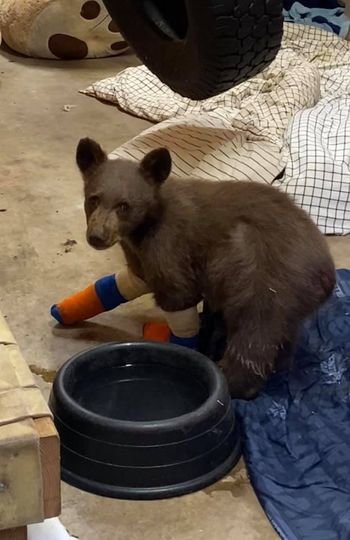 Although it's unknown from where the toy bear had been found, it's clearly something that the cub truly cherishes. The wildlife enthusiast smiles as he sees them together. In an interview, the man had this to say: "I thought how it was almost a perfect example of the playfulness of not only young black bears, but all of them."
The footage is a happy chapter in the life of a cub who had a rocky start, and the future of Tamarack would hold the best for him. Sielsch also had this to say: "It makes my heart very happy to have watched his progress against all odds as an orphaned and healing cub of the year, now yearling. It shows just how tenacious wildlife is when it comes to survival."