Most of the dogs are naturally lovable and loyal ones. So do the Beagles. They are the calm, gentle and loyal breed that everyone would fall in love with within seconds. This story from Britain also explains the quality of the breed and its inherent.
Meet Daisy, the lovely beagle lady who lives in the village of Staplehurst in Kent, UK. She was a gentle and loyal dog. One day her owner took two little kittens into the family. She was worried about keeping all of her pets under one roof. But she could not even imagine what would happen.
Daisy easily became friends with the new two kittens. But not only friends, but she also became a real adoptive mother for them.
She did not let other dogs near them. She slept in the same box and always followed them as their guard. Even her unexpectedly awakened maternal feelings led to her appearance of milk in the dog. Now she feeds her adoptive children! That is really heartwarming!
The veterinary clinic has informed them that the kittens are undernourished. They believe that that would be the reason why Daisy started to milk. And the fact is, dog milk is completely harmless to kittens.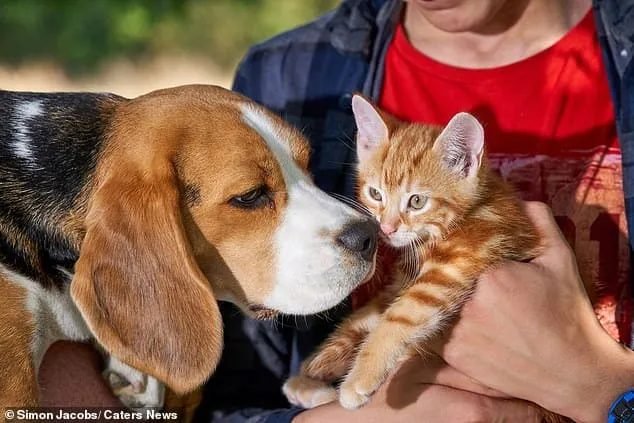 Maybe her warm feelings about the kittens will last forever. Having this kind of mom is a blessing to the kittens too. We hope they will keep their love among each other.