Park ranger Sarah Lindgren saw something the other day while she was driving just outside of Cross Fork, Pennsylvania, and she immediately applied the brakes.
There was a clearly distressed animal nearby, just off the forested road.
In an interview, Lindgren said, "I saw what appeared to be a bear with something on its head lying motionless on the berm of the road."
As Lindgren got closer to the animal, his suspicions were confirmed: the animal was a bear cub with his head securely wedged within a clear plastic jar. Then life started to show itself.
The youngster "picked up [his] head as I walked up to him," according to Lindgren. I approached [him] in extreme stealth mode as a result.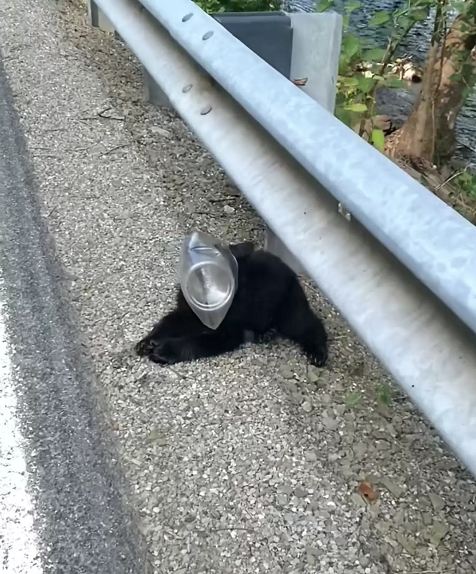 It nearly appeared as though the bear was asking a passing driver for assistance given his position, which was readily visible on the side of the road. And the bear received just that.
Here is video of what transpired next:

Lindgren was able to remove the cub's head from the container with a strong tug.
After that, Lindgren claimed, "[he] was very lost and gave me a suspicious look." I began urging him to proceed so he wouldn't be struck by a car.
Lindgren informed the Pennsylvania Game Commission about what had transpired when the bear went away safely.
Lindgren missed the mother of the bear the entire time. But at around 8 months old, the cub is seen to be old enough by authorities to live on its own, according to Lindgren. He could have already been doing it already.
Lindgren continued, "I think the mother could have removed the container herself if she had been involved." "I suppose [he] was used to being by himself."
Thankfully, Lindgren rediscovered the bear a few days after the rescue and saw that he seemed to be recovering his vigor.
"I have hope [that he will survive]!" said Lindgren. I acted within my legal rights, and I'm glad I showed out to lend a hand.