Most of love to collect. It could be stamps, coins, rocks, insects or anything. Collecting and having a museum on our own is not specific to humans. And this doggie proves that.
Bruce is an adorable 4 years old golden retriever.
And guess what his hobby is.
It's collecting sticks.
Meet Bruce, the 4-year-old golden retriever who's become a bit of a refined collector of sticks
Image credits: leoicenhour
Leo Icenhour, the owner of this adorable doggie recalls the beginning of this habit. It was one winter day Bruce's favorite stick was covered with a pile of snow. And, Bruce was unable to find it no matter how hard he searched it.
"He started his stick collection after a massive snow came into our area and left about 12 inches of snow on the ground," explained Icenhour. "At the time, he only had one stick and it was his absolute favorite. Well, it started snowing one evening and he left the stick out in our field. Over the next couple of days, he was in an absolute frenzy every time we went outside, relentlessly searching for his stick. He would dig like a madman and even bury his head in the snow trying to find it!"
The adorable doggo has over 50 sticks in his collection already that he picks up during his daily walks
Image credits: leoicenhour
He isn't allowed to play with them, only rubber toys, but just take a look at how proud he is of his collection!
Image credits: leoicenhour
There's no specific size or length for his stick collection. He owns all types of calibers with him. And I'm pretty sure that he has story for each and every stick he owns.
The good boy started collecting after he had lost his favorite stick after heavy snowfall
Image credits: leoicenhour
He spent some time looking for it hectically, digging holes and sniffing around
Image credits: leoicenhour
"After a few days of sunshine melted enough of the snow, he finally struck gold while digging and found his precious stick. I believe from that moment on he never wanted to be stick-less again, so he started the collection,"
Losing his favorite stick might have make him realized how precious sticks are for him.
Though Bruce owns a stick collection, he is not allowed to play with them due to an accident happened when he was 2 years old.
"We have been through a lot with each other as he almost lost his life after a stick perforated his esophagus while we were playing fetch the day of his 2nd birthday. From that point on, we started playing with a rubber stick for fetch purposes and Bruce started building his stick collection!"
Once the snow had melted, he was reunited with his favorite stick
Image credits: leoicenhour
After this experience, he started collecting more sticks so as to not relive the same temporary loss
Image credits: leoicenhour
Bruce always sneaks to the wood to bring home some sticks. He's not allowed to bring them inside the house. So, he keeps them in a designated area.
"As a dog, Bruce can be summed up by the phrase 'happy-go-lucky.' I am a bit biased, but I do believe he is the goodest boy in the world," Icenhour explained. "He's always so eager to please and loves for the spotlight to be on him. He goes everywhere with me and our favorite time of the day together is nap time (other than fetch time of course.). Treat wise, like many other dogs, peanut butter is his absolute favorite! Every year for his birthday, aka Bruce-A-Pa-Looza (the biggest party of the year), I always make him a juicy double cheeseburger which is always vacuumed up in a few seconds."
The lovable pooch and his collection have been going viral on Reddit, Imgur, and various news outlets
Image credits: leoicenhour
"Am I surprised that Bruce has become an internet sensation? Absolutely not. He is the light of my life and truly a unique pup so I am more proud of him than anything. He is the moon to my stars, the cheese to my macaroni, and the peanut butter to my jelly." Icenhour explained about Bruce being famous.
Another interesting info about Bruce is, he has a friend raccoon called Lily. "I rescued Lily when she was 4 weeks old as she was in an orphaned situation and she has fit right in with this family ever since. Her and Bruce wrestle and chase each other around the house for hours on end and it is most certainly the most beautiful and pure friendship I have ever seen."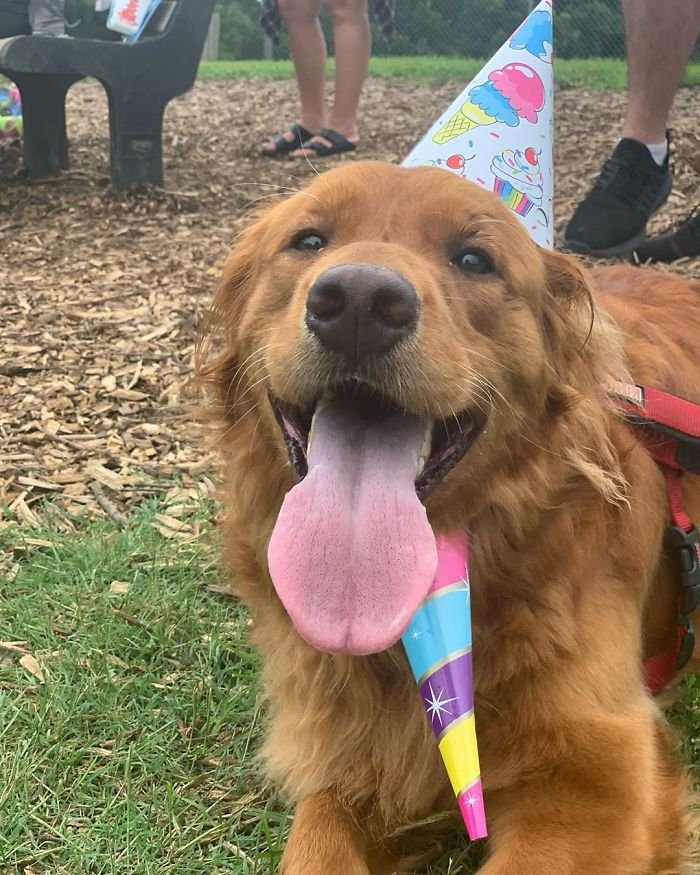 Image credits: leoicenhour
Well, it proves that having a hobby makes you happier. So far, Bruce has over 100,000 views and 11,000 upvotes on Reddit and Imgur collectively. And his collection has made to the headline on several online media.
Here's how the internet reacted to Bruce and his amazing stick collection