Do you think only marriage happens when the couple is 'perfect' in every way? Yeah? Well, FYI, this news is about passing away of the husband of the couple who had the Down syndrome who were successfully married for 25 years.
Paul Scharoun-DeForge who was having a tough fight with Alzheimer's died at the age of 56. According to their relatives, this must be the longest marriage between a couple who both have Down syndrome.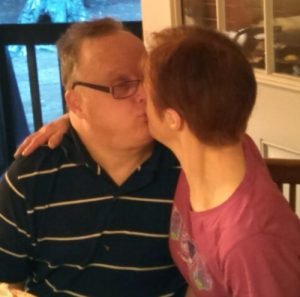 People tend to think that marriage is only for people who are fit and healthy in each way. But Erin Sobokowski who is a lawyer and an officer who educates people about Down syndrome indicates that love is a universal feeling. It doesn't matter whether a person has Down syndrome because everyone in this world wants to love the person who they are love and a person with Down syndrome are no different.
This couple: Kris and Paul met during the '80s at a dance for disabled individuals', who are fro, Liverpool, New York. And it was she who proposed to him in 1988.
Kris states that Paul always makes her laugh. It was her intuition that this is the person whom she gonna spend the rest of her life with. So, when she proposed him, he said yes.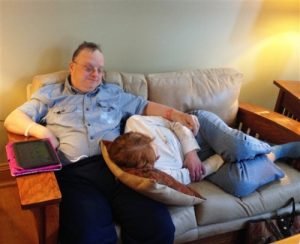 After a five-year engagement, in 1993, they decided to get married. Susan Scharoun, the sister of Kris says that they had every right to make their own decision and they made the best out of it.
Like every other human on this earth, they had their own differences yet, they did their best of supporting each other.
Furthermore, reminiscing the love of her sister and Paul, Susan says that their love was unconditional in every way. Kris always has been emotionally vulnerable and Paul was always there to hold her. They had many struggles yet nothing was powerful enough to shake their love for each other.
As Paul's Alzheimer's got worse, he started to struggle with dementia. But, when he sees Kris, there was this recognition on his face. As his condition of dementia got worse, he was placed in intensive care to manage his status. In 2019, he got pneumonia and placed in inpatient care.
Kris stayed with Paul in the entire time. She had been always there holding his hand, sitting next to him. However, in late March, Paul passed away, keeping his head on his brother's shoulder.
This was the hardest part of Kris. It was really hard for her to deal with this huge change that happened in her life. As Susan says, they had to convince her that Paul is not coming back and it was awfully difficult for her.
Kris says that she was really about him passing away as having spent most of her life with Paul.
Kris had given a butterfly to Paul and he enjoyed looking at it which was hanging beside his bed. So, Kris says that he must have been free like the butterfly flying in the air.
However, she planned to scatter his ashes on their wedding anniversary, which is on August 13th.