It was a hot day and the temperature was over 86 Fahrenheit, and Lake Tahoe was assaulted over the weekend by lots of people who decided to cool off. On Sunday some of them got a real surprise. A mother black bear and her three young cubs decided to join them. It sounds crazy and some of the swimmers couldn't believe their eyes. It was easy to understand why they joined to swim.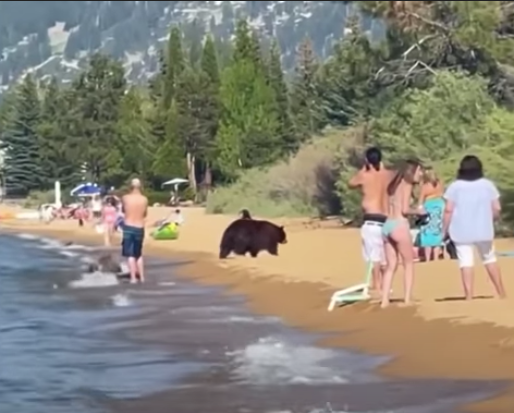 Just like everybody else, the bear family decided to take a day off, and have fun at the beach. One of the beachgoers Jen Watkins initially spotted the bears at the Pope beach. She hurried to capture it on her camera.
The bear family has been casually walking on the beach without being bothered by a large number of people. They had a little incident with a dog though.
They were shocked when they see it. Jen says that she believes the bear had been out earlier and it had gotten a little bit unfriendly, protective of the cubs with a golden retriever.
Black bear sights are very common on the beaches of Lake Tahoe. They even don't care about the crowd in there in the summer.
No one was harmed at this moment and the bear family peacefully walked away when they got tired of swimming. Wildlife officials have warned people to stay vigilant when around wild animals. Because they can be extremely dangerous.