The ultimate purpose of getting married is to have a family who loves and cares for each other. And children play a major role in holding a family together.
When it comes to having a large family, Courtney Rogers is widely known for her love for having more kids in her awesome family. The 36-year old mom is currently living with her husband and her 11 kids in Santa Fe, New Mexico. What's special about her is that she has been pregnant every year since 2008. And what's really awesome about her is that she thinks she can raise more kids and she's willing to add at least 3 or 4 more kids to her family.
Her daily life is shared on Instagram and there is also a show called Love What Matters where she shares some of her thoughts of random questions the strangers have asked over the years.
"We want to have more if we can. We want to have 12 children, a family of 14 even." Courtney has said to the Sun.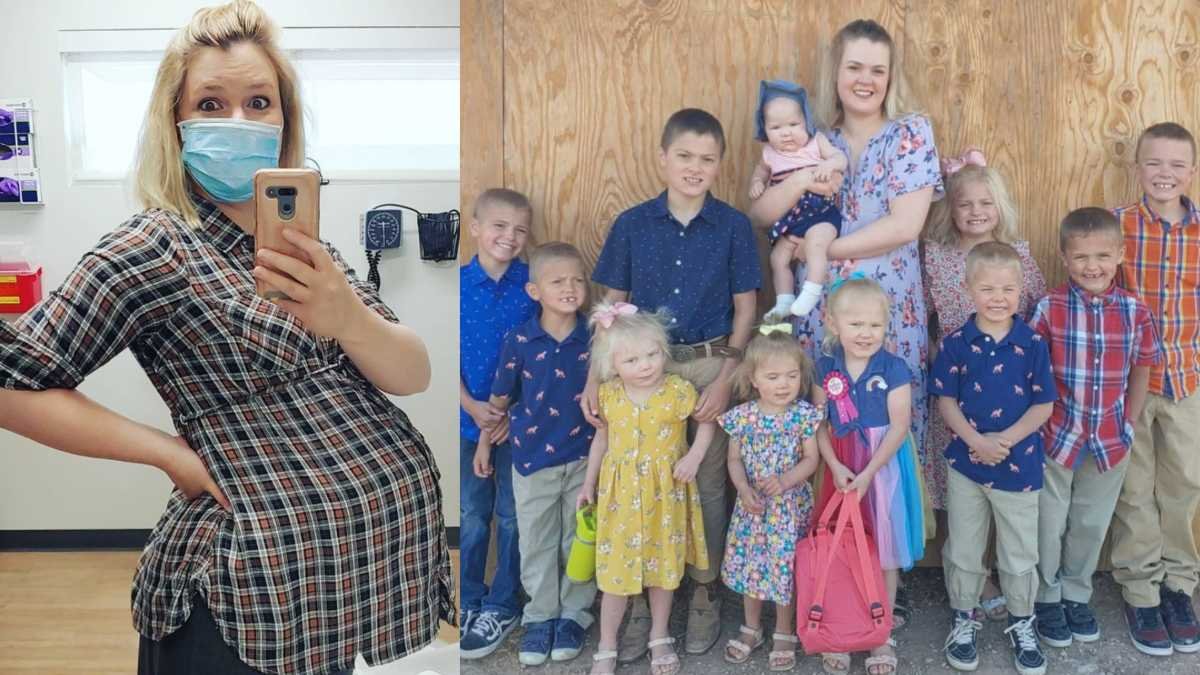 "The kids want us to be like the film Cheaper by the Dozen, where the parents compromise their careers to raise 12 children," If you have watched the movie, we'll I guess you have pretty much a clear idea how a family with 11 kids work.
The couple met in 2007 at a church camp through a mutual friend and got married in 2008. Though they fell completely head over heels with each other, they had to live apart at the beginning as Courtney was in North California and Chris was in Georgia.
Since their marriage in 2008, they have warmly welcomed five girls and six boys.
The eldest of the family, Clint is 11. Following him, Clay is 9; Cade, 8; Callie, 7 and Cash is. 6. To make it more interesting the Rogers have twins Colt and Case, 5; Calena is 4; Caydie is 2, Coralee is 23 months; and Caris,the youngest in the family, is still 6 months.
As this news is enthusiastic, it's not easy to raise 11 kids. For example, their total food bill is around $1, 200, per month. And a car is not going to fit for the family, so they have a 15-seat van at home to travel.
Chris is a local pastor and Courtney is a housewife who does the homeschooling for her school-aged kids. She states that as it is a huge responsibility, she does her best, loving her every kid unconditionally.
"The people who ask how I can give all my kids enough attention are usually those who send their kids off to school. I do not understand their logic when I am around my kids 24 hours a day." She further stated to the Sun.
When it comes to birth control, Courtney says that she has nothing against it as she's not using the Pill.
"Some people think it's for religious reasons, but it's not. I have never been comfortable going on birth control, as I don't like the idea of taking a pill." She explained her view on having birth control.
When it comes to the couple's family background, both of them are from large families. Courtney is the eldest in her family of 6 kids and Chris has 9 siblings.
However, in a society where every family has maximum 4 children, Courtney is humbly proud that, "I am the only mom at our church who has lots of kids,"
However, her deliveries haven't been always smooth. She had two miscarriages and she says that her 11th delivery was the hardest one among all and the kid was put on oxygen and being monitored for some time.
Cyde, her third son was delivered in the driveway of her home along with the help from the paramedics. And it was a traumatic experience for her too.
"I love being pregnant. I love growing another person inside me, thinking about what they will be like, and picking out names." She admits  that she has never had morning sickness all these years.
"I do not regret having so many children. The more the merrier as far as I'm concerned." Courtney loves to see when her kids bond together as they grow. And we also believe that it must be an amazing feeling as she is hoping to have more kids.