If you are a true animal lover, then you know the pain of passing away of any pet. If you could save any animal, you would definitely do it. So the same thing happened to Janine Guido when she met the dog, Watson. She is the person who found Speranza Animal Rescue which takes care of many animals.
Watson was a homeless dog and was found by a college student, in Philadelphia. As the dog was having many sores over the body and a tumor on his black leg plus starving, the student took the pitbull to an emergency vet. Unfortunately, the condition of this fur baby was critical. So according to the doctor, Watson was beyond hope as he was having a spreading cancer.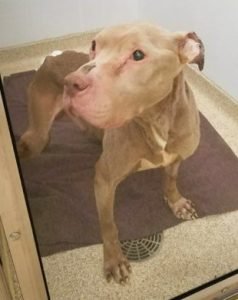 Since there was no hope, Watson was moved to a nearby shelter. The staff of the shelter agreed to keep Watson comfortably and safely.
"I had a gut feeling that things weren't going to be good the next day. I didn't want to leave him alone. Not when he needed me the most" Guido commented on Dodo. So, what she did was, she gathered the blankets and made a bed to make him comfortable, and spent the night holding him.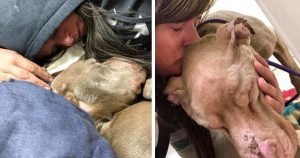 "He slept like a rock all night, cuddled up to me so tight. I cried myself to sleep and woke up in tears as well"
In the morning Watson began to pace yet stopped eating and drinking. Guido realized that his time has come. So she continued on supporting him when he needed someone else the most.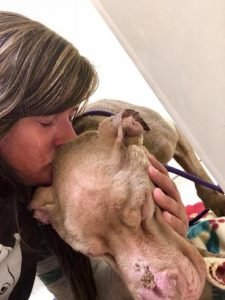 Before long, Watson passed away yet he was unconditionally loved, might be for the first time in his life.
It's pretty clear that Guido was having a hard time with the death of Watson
"I'm so thankful I was able to hold him tight for his last night. I was telling him how much he was loved and that his life mattered. My heart was breaking but I would not change a thing"